Friday 06 January 2012
ACCESS ALL AREAS In bed with Kirk Norcross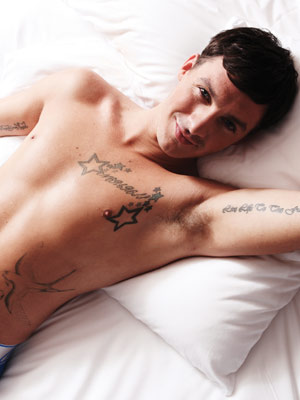 Kirk Norcross gets naked thanks to Now's Style Editor Alison Tay
Undressing Kirk Norcross is a filthy job, but someone's got to do it...
Picture the scene: I'm in the penthouse suite of a posh London hotel, and I'm in charge of stripping the Celebrity Big Brother star down to a very small pair of pants.
All in the line of duty, of course!
And heads-up, ladies: the biggest surprise of the shoot - and no it wasn't the contents of Kirk's briefs - was that TOWIE hottie's a massive Michael Bublé fan, and insisted on listening to my playlist while posing for these steamy shots, so I thought you all should know what music gets him in the mood.
Call Me Irresponsible...