Monday 27 June 2011
EXCLUSIVE Style Diary Of A Glasto Fashionista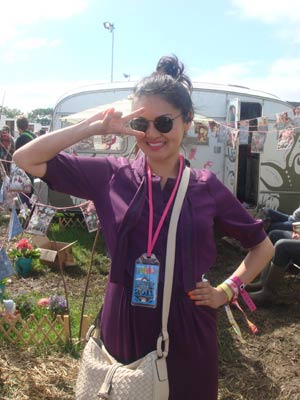 Now's Style Editor Alison Tay live from Glastonbury
As a fully paid-up festival fashionista - I've even spent a Summer Of Love in Woodstock - I pretty much spend all year planning what I'm going to wear to Glastonbury.
But this summer, my friends at eBay Fashion Outlet challenged me to shop for my entire festival look from their very first summer collection offering discounted fashion direct from high street brands including House Of Fraser, Jigsaw and Kookai at up to 70% off.
Friday 24 June 2011
Glasto Goss: Coleen and Wayne Rooney - in his 'n' hers Hunters - chopper into Windinglake Farm. Meanwhile, Arctic Monkey Alex Turner in a standard issue biker jacket and Alexa Chung - giving us a Marianne Faithfull masterclass in dressing like a rockstar's girlfriend - make a lower-key entrance.
The Line Up: Chipmunk, Wu Tang Clan, BB King and U2.
The Look: Days of torrential rain at Worthy Farm means my maxi dresses won't be making an appearance today. Luckily I packed a folksy Jigsaw silk dress that was £199 now £79, and a boho Episode Vicky weave cross-the-body bag was £129, now £49, to team with pink tie-dye tights £10 from Topshop, Hunter wellies £59 from Schuh and Ray Ban sunglasses at David Clulow £123, from my Glacéau Vitamin Water Glasto goodie bag.
Saturday 25 June 2011
Glasto Goss: Spot Bono being pursued by the paparazzi in the VIP area, and even Kate Moss in her Hunter wellies and snakeskin jeans combo comes unstuck ankle deep in mud wading to the side of the stage to watch her boyfriend's band The Kills.
The Line Up: Jessie J, Tinie Tempah, Elbow and Coldplay
The Look: Love this show-stopping Biba at House Of Fraser snakeprint maxi dress that was £175 and is now £56, so I hitch up the hemline and make it into an oh-so-on-trend mid-length to brave the Glasto mudbath.
Sunday 26 June 2011

Glasto goss: Spent the morning hanging out at Windinglake Farm where this year's VIP celeb campers include the Rooneys and Tinie Tempah.

The Line Up: Kool & The Gang, Plan B and Beyoncé
The Look: Here comes the sun, and it's finally time to unleash my maxi dress. This £14 Love Label Halston Heritage homage looks very Sex And The City 2 in Windinglake Farm's Morrocan marquee. Bring on Beyoncé!
Shop for your own festival looks at http://outlet.ebay.co.uk/fashion