Sunday 01 May 2011
God Save McQueen!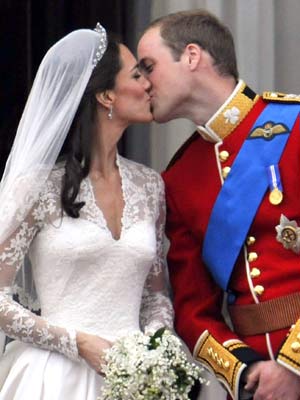 Princess Catherine chose Sarah Burton for Alexander McQueen
It was a marriage made in heaven. And I don't mean Prince William and
Princess Catherine
.
The perfect partnership I'm intimating is the union of Kate Middleton and Sarah Burton.
During her comparatively short spell in the style spotlight, Kate Middleton has always been known for her playing it safe with her fashion choices so whispers of a vintage Alexander McQueen creation hours before the ceremony instantly won the approval of the catwalk cognoscenti.
But instead of something old - which would have no doubt been a dark, dramatic design by the hand of the troubled, enfant terrible of the fashion world - Kate started afresh and chose something new by Sarah Burton for Alexander McQueen.
Sarah Burton had been working along side Alexander McQueen for 14 years took over as Creative Director after the designer's shocking suicide last year.
Like Kate Middleton, Sarah Burton has large Louboutins to fill. Like Kate Middleton, Sarah Burton's now had greatness thrust upon her. Like Kate Middleton, Sarah Burton is quietly determined to make her mark on a deeply respected, much-revered global brand.
And like Kate Middleton, on 29 April 2011, Sarah Burton has without question more than proved herself up to the task.
And it's only now the bunting's coming down after our street parties and the sugar rush has worn off from the Royal Wedding edition Krispy Kremes that it's become clear how smart a style choice Kate Middleton truly made.
Dame Vivienne Westwood remarked, 'I would have loved to have dressed Kate Middleton [for the Royal Wedding] but I have to wait until she kind of catches up a bit somewhere with style.'
Looks like Viv could be getting a call any day now...