Monday 18 April 2011
EXCLUSIVE 'What Kylie Minogue taught us about style'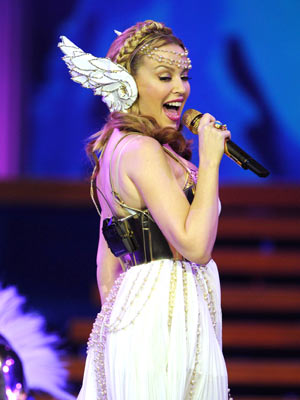 Kylie Minogue is The Ultra Girls fashion inspiration
Kylie Minogue's Dolce & Gabbana designed Aphrodite tour wardrobe was the envy of everyone who saw in concert. Not least her UK support band The Ultra Girls who - in this exclusive interview - reveal the style tips they've learnt from her.
How does it feel to be on the same bill as Kylie?
Lucy:
Unbelievable really! Still hasn't sunk in, we feel so honoured to share a
stage with the Princess Of Pop. It's one very big stage!
What was Kylie like when you met her?
Amy: She was so lovely she's really warm and welcoming and so genuine, she is so down to earth and of course beautiful in the flesh.
What are the best tips you've learnt about fashion and beauty from working with Kylie?
Laura: Well those shoes, I mean HELLO!... Like Loboutin heaven! She must have so many pairs it's ridiculous, if only she was a few sizes bigger we could share.
The Ultra Girls debut single Girls Will Be Girls is out now.
Visit TheUltraGirls.com