Sunday 07 September 2008
He's Just Not That Into You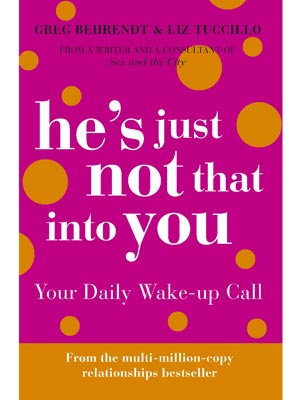 Credit where credit's due, the 60-Second Self-Help Book idea is a direct homage to The Digested Read, a précis of the hot book of the week, from The Guardian's former Editor supplement and the brainchild of the supremely innovative genius that is David Rowan, whose permission I procured to borrow it.

David Rowan is an eminent journalist, broadcaster and editor who was my first boss, and continues to be my mentor and a huge inspiration to me.

By his own admission, David taught me everything I know, and has just been appointed as Editor of the UK edition of cult tech trend magazine Wired which launches in 2009. So in return, and with much love, the utmost respect and the very best intentions, David I'm dedicating The 60-Second Self-Help Book series to you xxx

He's Just Not That Into You by Greg Behrendt and Liz Tuccillo

The "Maybe I'm Dating An Asshole" Excuse

Dear Greg
I'm dating this guy who ends conversations with "I'll call you tomorrow" or "I'll call you over the weekend. And then he doesn't. He always ends up calling but almost never when he says he would. Do I read something into this?

Annie

Dear Call Waiting
Yes you should read something into it. If he's not calling you when he says he will, if he's not asking you out, if he's not dating you, if he's not having sex with you, if he's having sex with someone else, if he only wants to have sex with you when he's drunk, if he's breaking up with you, if he's disappeared, if he's married (and other insane variations of being unavailable) or a selfish jerk, a bully or a really big freak, he's just not that into you. And when you do find the right person, believe me, you're not going to wish you spent more time with Freddy Can't-Remember-To-Call.
What you should have learned
"Busy" is another word for "Asshole." "Asshole" is another word for the guy you're dating.

"I don't want to be in a serious relationship" means "I don't want to be in a serious relationship with you." (Sorry)

Your lost self-esteem may take longer to find than a new boyfriend so prioritise accordingly.

Break up sex still means your broken up.

He may be lying in the hospital with amnesia but more likely he's just not that into you.

Our Super-Good Really Helpful Workbook

A guy you went out with once and slept with hasn't called you in two weeks. Do you:
a. Jump to the conclusion he's suffering from short-term memory loss and you should call him?
b. Quit your job, stay at home and wait for him to call?
c. Realise he's just not that into you and move on with your life?

Good for you. You answered C. Doesn't it feel good to make the right choice?
Next week's 60-Second Self-Help Book is Updating: How To Get A Man Or Woman Who Once Seemed Out Of Your League by Leil Lowndes