Friday 14 September 2012
Why I feel sorry for Kate Middleton and think Prince William will be livid about topless pictures becoming public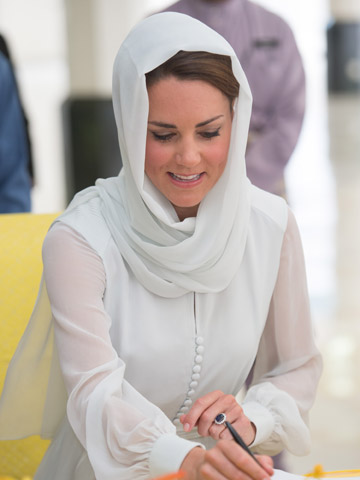 Kate Middleton has such dignity
While a celebrity falling out of an ill-fitting dress at a red carpet event, or cavorting on a public beach without their bikini top is one thing, I have to say that when topless pictures of Kate Middleton emerged today, I felt sorry for Prince William's young wife.
I'm sure that when the Duchess of Cambridge, 30, walked up the aisle at Westminster Abbey in front of an estimated global audience of two billion, she knew her life would never be the same.
There'd be events to attend and speeches to give, while everything from how she brushes her hair and what she chooses to wear would be analysed and scrutinised.
But while I can admit that I am just as interested as everybody else in what dress K-Middy is wearing or where her new nude heels are from, I don't need to see topless pictures of her.
And I don't think anyone else needs to either.
The printing of private pictures of Kate sunbathing poolside in a private chateau in France is, as many Twitter users have expressed since the scandal broke this morning, a complete invasion into her privacy.
These were pictures that were snapped using an incredibly long lens whilst the royal couple were on private property with - what they thought - acres of secluded grounds around them.
And I don't think that was fair.
I was happy to hear that two UK newspapers refused to print the intimate pictures of our future Queen of England. But I think Closer France has really misjudged this situation and that they should be feeling ashamed of their decision to publish the snaps.
Of course, this isn't the first time we've seen private pictures of Wills and Kate, who met at the University of St Andrews as students.
When an Australian mag published pictures of the newlyweds on their honeymoon last year, they were reportedly 'furious'.
Yes, it might have been annoying for William and Kate to have been papped whilst walking along a beach hand-in-hand, but this debacle is far more serious.
It will cause a reaction in William - who was just a young teenager when his lost in mum, (ironically in France), that I don't think will be easily, if ever, forgiven or forgotten.
NEW PICTURES Kate Middleton visits National Orchid Garden with Prince William
SEE PICTURES Kate Middleton's Style File
NEW PICTURES Kate Middleton wears Singapore designer's dress on Jubilee Tour with Prince William