Friday 07 September 2012
Oh Harry! Ignore everything I said about your nudity in Las Vegas, all is forgiven now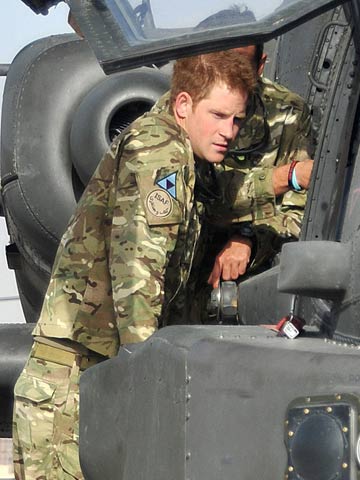 Prince Harry - from Vegas to Afghanistan.
A few weeks ago, I had a few stern words to say about
Prince Harry
.
After downing shots, stripping down to his crown jewels, bear-hugging a naked woman while still naked and then, worst of all, wearing a bad hat, I decided I'd had enough of the third in line to the throne's childish ways.
But then news came out that Prince Harry was on a four-month tour to Afghanistan and all my angry feelings towards him vanished faster than you could shout 'strip billiards'.
You see our Hazza (or Captain Harry Wales to his army pals) has proved that he is actually much more mature than I gave him credit for.
The fact that he will be spending his 28th birthday and Christmas not only in the extreme desert temperatures of Afghanistan but also sober is one that I never thought was possible.
This week Prince Harry has worked a charm offensive that even the best media advisor could never have engineered.
No-one could have briefed him on how to behave when, at an awards do, a five year old girl unexpectedly licked his cheek.

He carried it off with a huge grin on his face and chuckled 'we've only just met' - a line so smooth even James Bond could learn some tips.
He is now, along with other brave men and women, battling the Taliban for our country.
Prince Charles announced today that he is 'immensely proud of his son'.
Proud doesn't even cover it.

Just make sure you come home safe Harry.
SEE PICTURES Prince Harry makes first public appearance after naked pictures scandal
SEE PICTURES Kate Middleton and Prince Harry enjoy London 2012 Closing Ceremony without Prince William
SEE PICTURES Kate Middleton cuddles Prince William with Prince Harry as Chris Hoy wins 5th Olympic gold