Friday 07 September 2012
Dan Wootton: Forget about Vegas, Prince Harry is a hero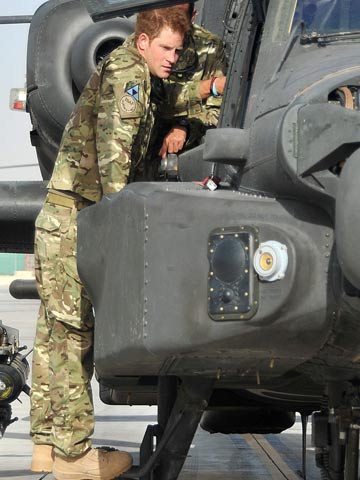 Brave Prince Harry will be in Afghanistan for the next four months
HERO: PRINCE HARRY
Only Prince Harry could have emerged from his Las Vegas nude picture scandal with his reputation arguably enhanced.
As he took his tentative steps back into the public eye at an awards do this week, our royal with the human touch played it perfectly.
'But never one to be shy in coming forward, I'll give it a go,' he smiled cheekily, getting the audience to laugh with him.
Prince Harry will now be spending the next four months risking his life for his country in Afghanistan, which makes him even more of a hero in my eyes.
OK, maybe a wild party with equally wild strangers (armed with iPhones) in Sin City wasn't the best idea.
But we've always said we want Prince William and Harry to lead a normal life - and that's exactly what he was doing.
VILLAIN: JORDAN
She didn't apologise, admit her behaviour had been irresponsible or even take a moment to consider her constant recklessness could end up killing someone.
In fact, after Jordan was banned from driving last week she did what Jordan always does: Shrug it off and think money is the solution to everything by claiming she would buy a pink helicopter to transport her.
It was also telling the multi-millionaire quickly blamed those closest to her.
First, she claimed her fiancé Leandro Penna had been speeding.

Then she blamed her mum for not opening her mail (of course, she's far too important to do it herself).
Obviously wealthy Jordan will have minions drive her everywhere for the next year.

That's a great shame because there's nothing I'd like to see more than her having to catch the tube and the bus like the rest of us.
SEE PICTURES Katie Price and Peter Andre - after the love split
SEE PICTURES Peter Andre and Amy Childs party at Sugar Hut
SEE PICTURES Peter Andre's night on the town with Nicola McLean and Chantelle Houghton