Friday 07 September 2012
Kristen Stewart V Robert Pattinson: there was a battle on the red carpet last night - and I know who won!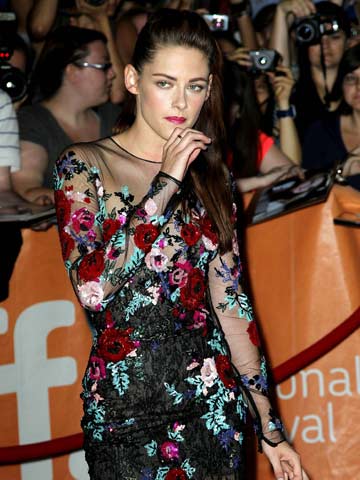 Kristen Stewart stands alone on the red carpet at the 2012 Toronto Film Festival
What I'm about to say is controversial. If you're a fan of Twilight, or Robert Pattinson, or both (if you're into one it's pretty much guaranteed you're into the other, right?), then you won't like it.

Last night, R-Pattz hit the MTV VMA Awards with co-star Taylor Lautner to whip up excitement ahead of the release of the final film in the trilogy, Breaking Dawn: Part 2.
The pair grinned and hung out together and West London boy Robert looked better than he has in ages.

Meanwhile in Canada, Kristen Stewart took to the red carpet at the Toronto Film Festival.
With minimal make-up and poured into a sexy, sheer-black lace dress embellished with flowers and accessorised with high stilettos, it was a metamorphosis.

Gone is the sullen teenager look she's been displaying for the past month - walking head down in LA and usually to be found wearing an item of her ex's clothing (so far we've seen her plaintively rock his t-shirt, his favourite baseball cap, even his rucksack).
No, the Kristen last night looked like she'd moved into a new phase of her life.

And while I concur with the rest of the Now office that Rob seems to have got hotter in recent weeks, seeing him and six-pack-rocking Taylor talking about Twilight last night was so 2008. Like they're trapped in a teen timewarp.

While Robert grinned and back-slapped, thousands of miles away (but in front of just as many cameras) Kristen stood alone, barely breaking a half smile.
But she still won the battle in my eyes.

I might not agree with what she's done, but it was a brave move to walk the red carpet solo at this point, and today I'm thinking maybe she's cooler than we all first gave her credit for.
SEE PICTURES Robert Pattinson and Kristen Stewart - a love story in photos
SEE PICTURES Robert Pattinson stars in Twilight - an international phenomenon
SEE PICTURES Robert Pattinson and Kristen
Stewart kiss at MTV Movie Awards