Tuesday 04 September 2012
So, did Spencer Matthews just romance Khloe on The Bachelor for money?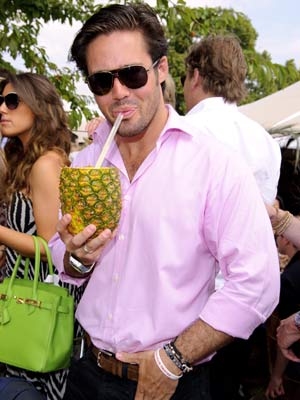 The Bachelor himself - sleazeball Spencer Matthews
There was always a key flaw with The Bachelor - aside from the fact that we were supposed to somehow believe that ANY girl would genuinely want to date Made In Chelsea sleazeball Spencer Matthews, let alone 24.

And that was that you got the distinct feeling Spencer wasn't really looking for love. At all.
A bit of a problem when you're the biggest 'catch' on a dating show.

Now, just a few days after we saw him pick Khloe Evans to be his winner - in scenes that were spectacularly sick-inducing - she has dropped a bombshell.
After filming had ended and she asked him what would happen next, he told her 'he wasn't sure whether he wants a girlfriend' after all.

Hmm. That kind of blows the premise of the ENTIRE SHOW doesn't it Spencer?

A show where the few remaining viewers who had stubbornly committed to tuning in each week, did so to find out who Spencer was going to choose to date.

Added to this was the on-going shadow of Spencer's on-off girlfriend Louise Thompson.

As much as Spencer denied he was in a relationship with her, they were clearly still smitten with each other.

Heck, he better be - fans of Made In Chelsea watched him break his best friend Jamie Laing's heart when he 'stole' Louise from him, assuring everyone who would listen that it was ok to do this to his friend because he was really serious about Louise.
Team Jamie immediately started trending on Twitter.

While The Bachelor was filming Louise gave a telling interview saying: 'We may not be together in a physical sense, but that's only down to the fact that he isn't allowed to see me when he's filming. But we're still speaking everyday and I still love him.'

And so here we are. Khloe, who says she hasn't seen or heard from Spencer since filming ended in July, has already moved on to another celebrity (Towie's Tom Pearce).

Meanwhile, Spencer has been pictured this week out with Louise.

I'm not even in a relationship with Spencer and I feel cheated.
SEE PICTURES Made In Chelsea girls show TOWIE cast how to dress at London party
SEE PICTURES Made In Chelsea star Millie Mackintosh attends InStyle's 10th anniversary party in London
EXCLUSIVE VIDEO Behind the scenes at Made In Chelsea girls Caggie Dunlop and Millie Mackintosh's photo shoot