Tuesday 31 July 2012
London 2012 Olympic winner Louis Smith is the David Beckham of gymnastics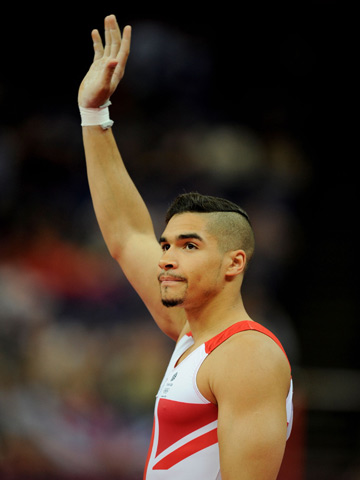 Louis Smith wins bronze
Yeah, you can call me shallow. And I'm definitely no sports expert. But I've had my eye on shiny new
Team GB
star,
Louis Smith
, 23, for a while now.
Maybe I'm psychic (or more likely, I just have an eager eye for a hot young sports star - and a magazine addiction to match.)
But I just KNEW that Louis would take centre stage at the Olympics this year.
Last night saw the British men's gymnastics team take a bronze medal - our first team gymnastics victory since 1924, when our women's team won in Amsterdam. That's 88 years, kids.
Go Louis Smith, Max Whitlock, Kristian Thomas, Daniel Purvis and Sam Oldham! Congrats!
So why is Louis Smith our hottest new Olympic star? Apart from being downright gorgeous, that is? Well, he's somersaulted, vaulted and, er, pommel-horsed his way into the nation's heart as part of our fab men's team.
And he has the charisma and twinkle in his eye that all those god-like, inspiring sports stars have. He's the David Beckham of gymnastics. There, I said it.
As team leader, he's obviously so proud of his boys that it makes my stomach do little flips. They've been working as a group for 10 years, and Louis calls their bronze medal 'the icing on the cake'. Awww.
Well you can have your cake and eat it, Lou. (Though probably not until after the Olympic Games are over.)
And I can't wait to see him go solo! The final of the men's pommel horse (Louis' speciality) is this Sunday. Will Louis bag us a gold medal? I hope so.
Will his arms look jaw-dropping? Most certainly. I never realised how good men look in leotards - until this man came along.
I'm bagsying my place on the sofa right now.
SEE PICTURES David Beckham shocks fans at Westfield Stratford City
SEE PICTURES David Beckham's changing hairstyles
SEE PICTURES Victoria and David Beckham: A love story in pictures