Thursday 26 July 2012
Emma Watson for 50 Shades Of Grey? Bonkbuster-tastic!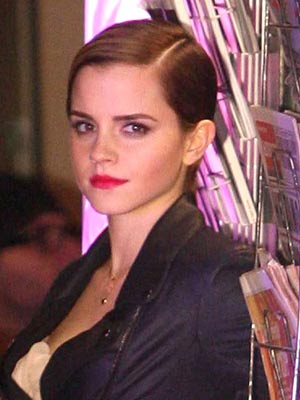 Emma Watson can do sultry like Ana Steele!
The mere thought of watching Harry Potter star Emma Watson attempting to S&M-up and writhe around naked in the movie adaptation of Fifty Shades Of Grey has sent violent shudders down the spines of some of my Now mag colleagues.
I guess I can kinda understand their initial squirminess. We've all known Emma since she was a wee child and the idea of Hermonie playing the sexy lead role of Anastasia Steele has taken me a good night's sleep to get used to.
But now, I totally get it.
In the book, Ana's a naïve girl who is discovering her sexuality - and I reckon Emma's innocence and vulnerability will take her audience on a very believable journey of sexual awakening.
'But we want a real girl, with curves,' my colleagues complain.

Well, does it really matter if she's too posh, or too thin? She's an actress. And a good one.

Just like usually-wafer-thin Rene Zellweger in Bridget Jones, all Emma needs to do is gorge on a few cheeseburgers (lucky lady) and bag herself some new curves to womanly-up herself - and imagine the media attention that would bring!

Totes. Smart. Business. Move.

So yes, her sexiness is understated, but isn't that the point?
Plus, have you seen those Burberry ads? Miss Watson can turn the sexy on and do sultry with the best of them when she wants to.

So I'm backing our little pixie-faced star to bag the biggest role of the year.

My only issue is one of envy. Because should she do so, she could end up getting right steamy with my secret boyfriend Ryan Gosling, rumoured for the part of Christian Grey. *cue internal jealous rage*
NEW PICTURES Who should pay Anastasia Steele and Christian Grey in 50 Shades Of Grey?
CELEBRITY WEIGHT LOSS Celebrity diets
SEE PICTURES Harry Potter: The stars grow up
SEE PICTURES Harry Potter star Emma Watson's Style File