Thursday 26 July 2012
50 Shades Of One Direction - Chapter 4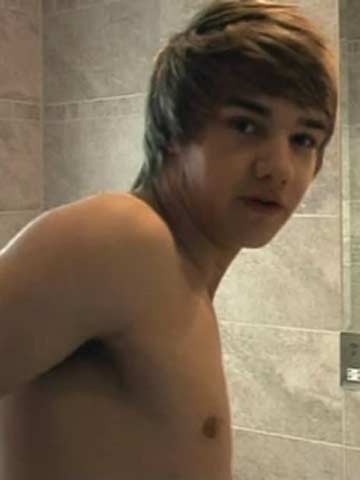 Lium Pain. Should in no way be confused with Liam Payne
Praise for One Seduction:
'I clicked and read part one and almost died laughing' holly66
'Omg I think I just died' Ran Jing
You've had Chapter 1, Chapter 2, and Chapter 3, now it's time for Chapter 4 of the online filthfest that's so badly-written it puts the 'poor' in porn. So far we've read about Carol-Anne Flap's sexcapades with One Seduction bandmates Harrington Stiles, Nile Hardon and Shane Madlick.
But just like real-life boy band One Direction, One Seduction has five members too. Which means Carol-Anne has another two boys to come across [calm down, it's not even started yet] before the tale reaches a satisfying climax... [I said STOP IT!]
So, set your out-of-office, make sure the boss isn't looking, and get your mouse hand ready for action... [so you can scroll down. Geez, what's wrong with you people?]

One Seduction
Chapter 4: I Want
The sleek One Seduction tour bus eased through the gates of the Cardiff Motorpoint Arena and came to a shuddering halt. Carol-Anne Flap's physical journey may have come to an end - in the secure parking lot of one of Wales' premiere concert venues - but she had a feeling her sensual journey had a few miles to go.
After the last flight case was removed, Carol-Anne sneaked into the cavernous backstage area. She kept to the shadows, bedraggled and filthy from her wild ride in the luggage compartment with Shane Madlick. There were security men and roadies everywhere, but no sign of One Seduction.
A burly security man spotted her: 'Oi, where's your pass?' Carol-Anne panicked and ran, into a long corridor lined with doors. She frantically tugged every knob on the way past, but they were all locked. The last door yielded, and she entered, panting. The guard's footsteps grew louder, then faded. She was safe.
Carol-Anne found herself in a changing room packed with cardboard boxes. Spotting showers in one corner, she checked they worked and peeled off her soiled clothes, leaving them on a wooden bench.
As the jets of water played across her skin her mind drifted. Harrington Stiles' nipples... Nile Hardon's nimble fingers... Shane Madlick's tattoos... 'Who'd be next to caress the cougar?' she wondered, as did her hands.
When she finally emerged, naked and glistening, her clothes were gone! In their place, laid out neatly on the wooden slats, was an outfit made entirely of branded One Seduction clothing. So that's what had been in the boxes.
The clothes were clearly designed for younger fans, but Carol-Anne had never been ashamed of her coltish figure. 'I can still pass for 23, 24, easy,' she thought. Her inner goddess rolled her eyes.
She pulled on the knee length One Seduction socks, the One Seduction miniskirt and the One Seduction cropped t-shirt. Finally, she tore open the pack of One Seduction days-of-the-week knickers. She realised she had no idea what day it was - she plumped for Friday.
'Interesting'. A gorgeous voice came from behind the boxes, followed by a gorgeous man. 'According to the rhyme, Friday's child is loving and giving. Are you loving and giving?'
Carol-Anne was speechless. Standing before her was Lium Pain - One Seduction's sportiest specimen. She could feel energy and power pinging off him. Even his hair looked like it worked out. In his right fist he held a tightly rolled One Seduction tour programme.
'Are you into S&M?' he asked, smacking the programme into his open left palm.
'I like their sandwiches, and the underwear's good,' she replied.
Lium laughed, lustily. 'Sandwiches? Underwear? Mwah-hah-hah.'
Carol-Anne was confused, but before she could react Lium had grabbed her wrists, spun her round, bent her over his well-muscled knees and lifted her One Seduction miniskirt. 'It's not Friday, it's Wednedsay. You're a bad, bad girl. You need to be punished. I'm Lium Pain; aka The King Of Pain; aka Pain Man; aka The Painisher. Mwah-hah-hah.'
With that, he started spanking her with the rolled-up programme.
- Spank! Spank! Spank! -
The searing shaft of pain that accompanied each strike spread from her reddening cheeks, to her thighs, and beyond...
- Spank! Spank! Spank! -
...but as the 'punishment' continued relentlessly Carol-Anne realised with surprise that Lium's slaps were no longer just painful - there was something else. Pleasure!
She gasped and felt strangely naughty. She still couldn't work out what this had to do with Marks & Spencer, but it felt great! As she clung even tighter to Lium's firm, muscled legs, she felt a strange vibration, which grew into a deep rumbling.
It was the sound of 10,000 One Seduction fans, stamping their feet in anticipation. She heard their massed voices scream 'What do we want? One Seduction! When do we want them? NOW!'
And at that moment, as 10,000 shrill voices reached a deafening crescendo, Carol-Anne knew exactly how the crowd felt...