Tuesday 24 July 2012
I've just seen the first episode of Downton Abbey Season 3!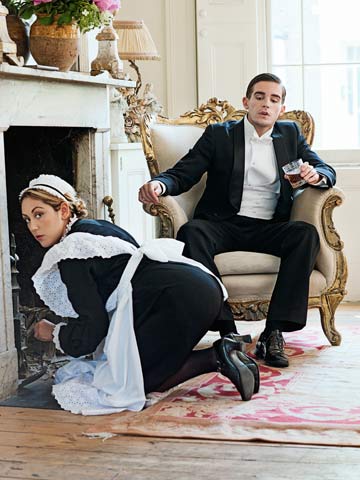 Sadly, Downton Abbey Season 3 does not include the cast of Geordie Shore
This morning, I was lucky enough to be invited to view the first episode of
Downton Abbey Season 3
- and because I signed an embargo, I, erm, can't tell you anything about it.
What I can tell you is that it felt really strange to watch it on a flawless summer's day.
Downton Abbey is about winding down after a stressful strobe light-filled and sound-blasting episode of X Factor. Downton Abbey is cuddling up with your partner holding freshly-brewed cuppas.
Downton Abbey is the last hurrah of the weekend before the realisation that Monday's really going to happen finally kicks in.
And I still have all of that to look forward to - except this time I'll be prepared with a huge box of tissues.
I've always believed an episode of Downton Abbey is very therapeutic - there were at least six or seven times during the first episode where I wanted to allow the tears to fall and have a really good cry. That isn't exactly cool in a theatre packed full of other journalists.
As if I wasn't already overwhelmed enough, we were allowed to interview the entire cast! This was a huge problem for me, because I was having trouble separating the actors from their characters.
Dan Stevens (Matthew Crawley) looked me in the eye while eating a juicy piece of watermelon. And yes, at least for me, time stopped. Christian Grey who?
On the other side of the room, Brendan Coyle (Mr Bates), was playfully throwing balled up pieces of paper at Sophie McShera (kitchenmaid Daisy) and Rob James-Collier (footman Thomas Barrow) was carrying around a satchel and pretending to be an ISA salesman.
Michelle Dockery (Lady Mary) and Jessica Brown Findlay (Lady Sybil) are absolutely stunning in real life - it's like I was watching their gorgeousness in HD.
And now here I am at work, trying as hard as I can to let today's events fully sink in. Strike me down and call me Lavinia, cos I have a bad case of Downton Abbey fever. Quick - someone distract me with some Olympics!
NEW PICTURES Geordie Shore does Downton Abbey