Thursday 19 July 2012
Why sexy One Direction should always spoil their girlfriends!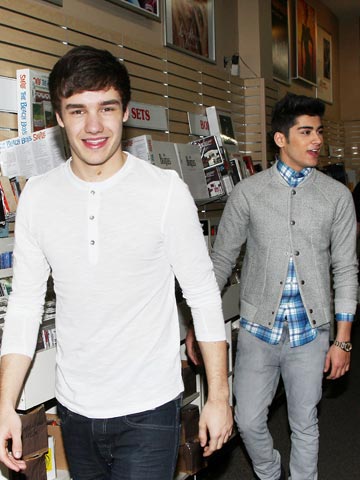 Liam Payne bought his girl a new car, Zayn Malik took his lady on a romantic holiday
This week I was excited to hear that (screeeam!)
One Direction
are treating their girlfriends right, by spoiling them with treats.
The boys have been out of the country for most of this year - and on top of that, their long-suffering ladies have had to trust them at every step, despite hundreds of love-crazed 1D fans continuously throwing themselves at their boyfriends and hot celebrity women publicly saying they fancy their men.
So how have the lads rewarded their girls for their patience and understanding? Why, with lavish pressies of course.
Firstly, Louis Tomlinson and Liam Payne have both forked out for posh cars for their lucky other halves.
Louis, 20, gifted his love University of Manchester student Eleanor Calder with a flash Mini for her 20th birthday earlier this week, then Liam, 18, treated his dancer girlfriend Danielle Peazer, 24, to a spanking new Audi TT.
Understandably, the girls were reported to be 'delighted'.

Next up, it was the turn of (in my opinion the 'hot one') Zayn Malik, and he didn't disappoint. Whisking Little Mix's Perrie Edwards away on a surprise holiday for her 19th birthday, he apparently just wanted to spend some 'romantic' time with his girl.
Remaining members Niall Horan (meh) and Harry Styles (hello...) are currently single, but we can rest safe in the knowledge that when they do embark on a relationship, they're going to treat the girl in question well.
Yes ok, I know it's not just about the material things, but all girls like a present and it seems that despite their tender ages, these are five boys who know exactly how to make a girl feel special. Nice work, lads!
SEE PICTURES Get the look! One Direction girlfriends Eleanor Calder and Danielle Peazer are new style icons>>
SEE PICTURES One Direction sign copies of album Up All Night in New York>>
NEW PICTURES One Direction and red carpet guests at the Brits 2012>>