Friday 13 July 2012
Dan Wootton's celebrity hero and villain of the week: Kerry Katona and Tulisa's ex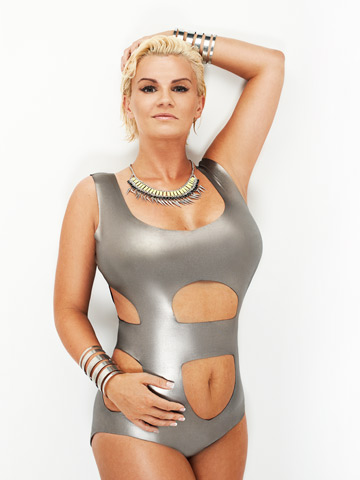 Read Dan Wootton's interview with Kerry Katona in this week's issue of Now
HERO: KERRY KATONA
Yes, I've had a tummy tuck but I still hate my body. Yes, I've made a sex tape but it was so bad I destroyed it. Yes, I'm so broke I'm having to move house.
These are hardly the sorts of revelations you'd expect any celebrity to make. Most like to sugarcoat and massage the truth. But not Kerry Katona.
And what does she get for this refreshing and brutal honesty? A whole load of abuse.
I've been stunned to see the trolls round on the former Atomic Kitten after the publication of my bombshell interview and revealing photoshoot with her in Now earlier this week.
So I want to take a moment to defend Kerry today. We've had our differences in the past, but I always appreciate her work ethic and desire to make money to try and give her children a better life. The haters need to back off.
VILLAIN: TULISA'S EX JUSTIN EDWARDS
When Tulisa made the bold decision to appear at the High Court yesterday, it marked the end of a distressing four-month period for The X Factor judge.
But her decision to legally pursue her scumbag ex Justin Edwards (pictured below) was completely vindicated as he admitted to releasing private footage of a sex tape in an attempt to make money and destroy her reputation.
There is nothing more disturbing than a bitter ex trying to destroy a former partner who has gone on to bigger and better things.

He knew the potential damage he would cause by making the sex tape available online. It was simply a sick thing to do.
But I am glad the world finally has moved on in terms of judging celebrities who are involved in these sorts of scandals.

Come on, the majority of people under 30 in a long-term relationship have probably experimented with something similar.
I hope Justin feels ashamed for what he did and any future girlfriends of his thinks twice before trusting him.

Heaven forbid they might become famous too...
SEE PICTURES Tulisa Contostavlos Style File>>
SEE PICTURES Kerry Katona: From pop princess to Dazed Of Warrington>>
SEE PICTURES Kerry Katona and Ashley Cole party with stars in London>>
SEE PICTURES Kerry Katona at Sky One's Children's Champions Awards>>