Wednesday 11 July 2012
Fifty Shades Of One Direction - Chapter 3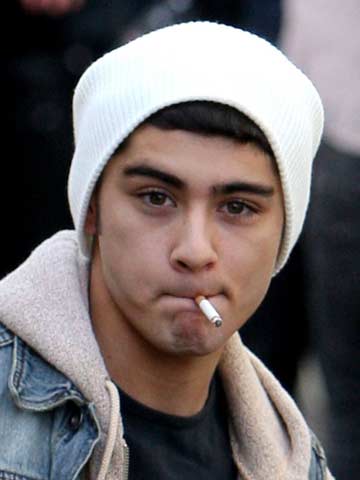 Shane Madlick. Should in no way be confused with Zayn Malik
WARNING: COUGAR PORN!
Any similarities with
One Direction
,
Harry Styles
,
Niall Horan
or, in this case,
Zayn Malik
are coincidental. If you're a
One Direction
fan who has stumbled across this by accident, I can only apologise for the unbridled passion that the story of
Carol-Anne Flap
's 'education' will unleash in you. In your face,
Fifty Shades of Grey
!
But if you're here because you loved Chapter 1 (starring Harrington Stiles) and Chapter 2 (starring Nile Hardon) turn off the telly, lie back and prepare to have another Meg Ryan in When Harry Met Sally moment. Only for real...

One Seduction
Chapter 3: Gotta Be You
Carol-Anne Flap's life had changed beyond recognition since she'd come across boyband One Seduction just 24 hours ago. First, she'd sailed the sensuous seas of Harrington Stiles' water bed. Then she'd enjoyed a morning of jiggery-pokery (mostly pokery) with bandmate Nile Hardon.
And now? Now she was hiding in the pitch-black luggage compartment of One Seduction's luxury tour bus, having sneaked aboard, hoping - no, yearning - to have the hole in her life filled. By another member of the band. 'What am I doing?' thought the 32-year-old cougar.
Carol-Anne's hiding place amongst the flight cases was cramped and hot. Her skimpy clothing clung to every curve. Every vibration from the wheels sent tiny tremors through her already sensitive body. Pushing herself onto the corner of the nearest flight-case, she bit her lip and succumbed to the rhythm of the road...
Suddenly she realised she was no longer alone. 'I love it down here, you can really feel the speed, the danger,' a mysterious voice growled inches from her ear and a smell of musk penetrated her nostrils. 'I'm Shane Madlick, the bad boy of One Seduction. Fancy a smoke?'
'B-b-b-but the petrol tank's just there,' said the cowering cougar, 'it could all just go...'
'Bang?' said Shane. 'But don't you feel like a bang sometimes?'

The flame of his lighter flickered between them and she saw his broodiing handsome face for the first time. He lit a cigarette, inhaled deeply, and peeled off his t-shirt, revealing his smooth, muscled torso.
He reached over Carol-Anne, his glistening skin just millimetres from her lips, and grabbed a leather parcel hidden among the luggage. He unwrapped it, revealing a selection of needles and small glass vials.
'Drugs?' asked Carol-Anne. A flash of fury appeared in his dark intelligent eyes...
'Art' glared Shane. 'This is my tattoo kit. My body is a canvas. Every tattoo has a deep and special meaning. I did them all myself. The playing card shows I'm a player. The microphone shows I'm a singer. The Chinese writing shows, er, I'm not sure what that shows.'
He grabbed Carol-Anne's left hand and placed it on his chest. She could feel his heart beating, pumping blood to his engorged extremities. Her fingers traced the outline of a heart, a recent tattoo not yet healed.
'Yes. My heart is empty, and I need you to fill it.' He handed her a needle and one of the glass vials. In the glow of his lighter she could see the red ink swimming within it. 'But first, I need something to bite on'. Without warning he reached under Carol-Anne's sweat-soaked skirt and ripped off her moist panties, then clenched them between his perfect teeth. Her inner goddess swallowed, hard.
Nervously, she dipped the needle into the ink, then pricked his skin depositing the ruby liquid. Each time she pushed the needle in he groaned, then panted, as the pain was replaced by pleasure. Prick, pain, pleasure. Prick, pain, pleasure.
Shane's panting and groaning grew louder and more frantic, while each bump in the road sent fresh spasms of excitement through Carol-Anne's barely clothed body. She focused on the tip of the needle, going in and out of the sultry singer's skin. In and out, in and out, in and out...
And at that moment Carol-Anne knew exactly how Shane's epidermis and dermis felt...