Thursday 05 July 2012
Harry Styles, Louis Tomlinson and Zayn Malik: Whose car has the swag factor?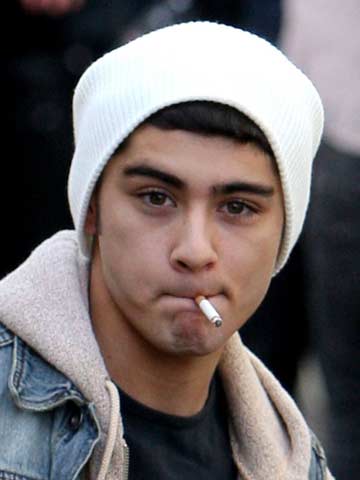 Zayn Malik has bought a new car
So,
One Direction
's
Zayn Malik
's been
snapped
picking up the keys to his brand new Bentley Continental GT.
I'm pretty sure his girlfriend
Little Mix
's
Perrie Edwards
will be pleased with the obvious upgrade - pootling around on the back of Zayn's motorised scooter is cute for a laugh... and that's really about it.
But whilst Zayn Malik's Bentley is very flash, it definitely pales in comparison to the ride One Direction bandmate
Harry Styles
splashed out on back in April - a Audi R8 Coupe.
Or does it?
And we can't forget
Louis Tomlinson
- what about his Porsche Boxster? Here's a comparison of their supercars:
Louis Tomlinson's Porsche Boxster
Colour: Black
Price: £45,000
0 - 62mph: 5.1 seconds
Top Speed: 173mph
Other celebrity owners: Robert Pattinson, Ashley Tisdale
Zayn Malik's Bentley Continental GT
Colour: Black
Price: £32,000
0 - 62mph: 4.4 seconds
Top Speed: 198mph
Other celebrity owners: David Beckham, Nicki Minaj
Harry Styles's Audi R8 Coupe
Colour: Black
Price: £100,000
0 - 62mph: 3.6 Seconds
Top Speed: 199mph
Other celebrity owners: Lady Gaga, Twilight's Taylor Lautner
Just kidding! It's totes Harry Styles's wheels that win hands down.
What do you think?
SEE PICTURES Harry Styles and One Direction perform new song Gotta Be You on German TV show>>
SEE PICTURES Harry Styles and One Direction at Capital FM Jingle Bell Ball 2011>>
NEW PICTURES One Direction promote new single What Makes You Beautiful on Radio 1>>
EXCLUSIVE PICTURES Caroline Flack shows off exactly what Harry Styles sees in her>>
NEW PICTURE Zayn Mailk's latest etching>>
SEE PICTURE Zayn Malik shows off Kiwi fern tattoo>>
SEE PICTURE Zayn Malik's poses with tattoo artist>>