Tuesday 03 July 2012
Fifty Shades Of One Direction - Chapter 1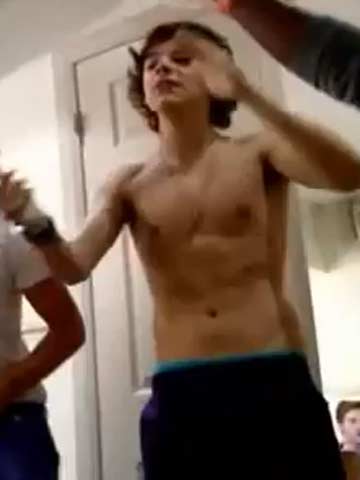 Harrington Stiles. Should in no way be confused with Harry Styles
Pervsome publishing phenomenon Fifty Shades Of Grey sprung from Twilight fan fiction. But what if the next big thing was 'Cougar Porn', aimed at 'mature' One Direction fans?
Maybe there are millions of women like Caroline Flack and Lucy Horobin who fancy a slice of Harry Styles pie?
Seeing as Fifty Shades makes it all look so easy, I thought I'd have a crack at writing some. So, pour yourself a glass of wine, dim the lights, and get stuck in...

One Seduction
Chapter 1: Up All Night
Teenage millionaire Harrington Stiles led 32-year-old Carol-Anne Flap into the inner sanctum of his bedroom. The soft velvet curtains parted, sending a shaft of moonlight onto the satin sheets of the superstar singer's king-size water bed.
His eyes reflected the twinkling stars in the night sky, and his dark, curly hair bobbed gently in the moonlight, like a discarded wig in a swimming pool.
Despite being almost twice Harrington's age, Carol-Anne trembled like a schoolgirl as he slowly unbuttoned her blouse, before removing his own designer shirt and letting it drop onto the luxurious shagpile carpet.
Carol-Anne gasped at his pale porcelain chest. His erect man nipples seemed to follow her round the room. His designer underwear poked provocatively from the waistband of his tight burgundy trousers, like an inquisitive meerkat.
Slowy, Harrington peeled off their remaining outer garments. Goosebumps rose on her tingling skin. Finally the boyband member brushed one hand gently down Carol-Anne's back, undoing her lacy bra with his well-practised fingers. She was now naked before him. Her inner goddess did a cartwheel.
'That's what makes you beautiful, Miss Flap' the 18-year-old whispered as he leaned in for the softest of kisses, before pushing the powerless Cougar forcefully down onto the water bed, sending ripples of anticipation through the moist interior.
And at that moment Carol-Anne knew exactly how the bed felt...
Don't miss Chapter 2 of Fifty Shades Of One Direction>>
If you want to read more of this rubbish, please send me a cheque for £1million, and I'll give up the day job.
SEE PICTURES Harry Styles and One Direction perform on German TV show>>
SEE EXCLUSIVE VIDEO Teen Now meets Harry Styles and One Direction>>
SEE VIDEO One Direction mobbed by screaming fans in London>>