Thursday 05 July 2012
Dan Wootton: Has Big Brother finally gone too far?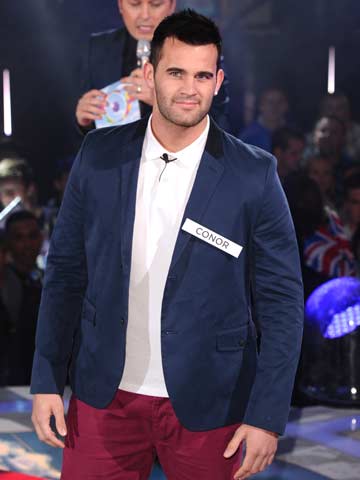 Conor McIntyre was aggressive towards fellow housemate Deana Uppal
I can't deny that
Big Brother
has been my TV guilty pleasure for years.
In fact, I jumped for joy when Channel 5 decided to bring our annual helping of weirdos and wannabes back.
However, the vile Mean Girls-style bullying that took place in the house last week has made me question whether it's right to keep watching.
When did it become acceptable for a bloke to threaten physical and sexual violence on a woman simply because she annoyed him?
More disturbingly, when did TV producers decide no action should be taken afterwards?
If you missed it, this is what happened:
Conor McIntyre, 24, from Northern Ireland, fell out with Miss India UK Deana Uppal, 23, from Birmingham, after she failed to eat a cake made of ham and chilli sauce.
Later, when Deana was out of earshot, Conor picked up her hairbrush and ranted viciously to other housemates:
'Get your epilator and stick it up your arse. We don't give a f***! Stick it up your f***ing minge, stupid bastard. F***ing piece of shit.'
When asked what he'd do if Deana threw water over him, just as she had done with rebel Arron Lowe, 23, Conor boasted: 'I'd punch her.'
He made the sick outburst in front of his fellow housemates, including a number of the girls, who all kept quiet.
A few years ago, comments far less serious would've resulted in Conor being kicked out faster than you could say: 'Jade Goody race row.'
However, this year Conor was simply called to the diary room for a minor dressing down, which he shrugged off.
I'm all for seeing Kinga-style drunken antics and even rows such as Makosi and Anthony's over what really happened in that pool.
But if Channel 5 condones a man threatening a woman with violence, guys like Conor might start to think it's acceptable - and I'll be tuning out for good.
A spokesperson for Channel 5 told us: 'Conor's threatening behaviour was not condoned by Big Brother or any housemate.
'It was immediately reprimanded and will not be tolerated.'
Read all the latest news about Big Brother in Now magazine dated 9 July - out now!
PICTURES Big Brother 2012 housemates - they're in the house>>
WEDDING JOY! 2011 Big Brother housemates Louise Cliffe and Jay McKray get married>>
PICTURES The new Big Brother house 2012>>