Monday 02 July 2012
Why we shouldn't give Harry Styles flack for having sex with married DJ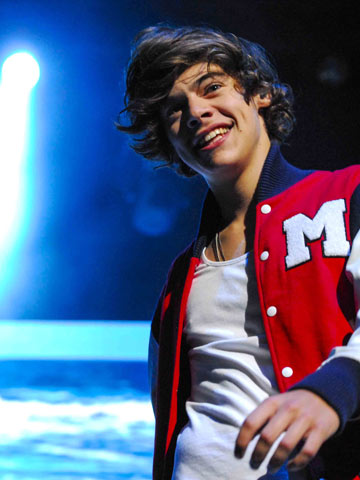 Harry Styles: Us women can't get enough of him
It was the scandal that's been dominating the news: Harry Styles' affair with married 32-year-old DJ Lucy Horobin.
Now Lucy's hubby Oliver Pope, 31, has been snapped walking hand-in-hand with his cheating wife - before blasting the teenager, telling pals: 'Harry is a rat'.
Don't get me wrong, Harry was not a saint on this occasion.
But I rather feel Oliver might want to look closer to home for who is really to blame.
Harry, now 18, and Lucy (who is old enough to know better) had a short fling (or as we're told two quick turns in the sack) just a month before the 1D star hooked up with fellow cougar Caroline Flack, 32, last October.
We're told Harry thought Lucy was separated from Oliver at the time - although it was later claimed they were only 'on a break' (did no one learn from Ross and Rachel?).
But instead of asking his wife for her wedding ring back, Oliver, today seemed to have completely forgiven her for cheating on him with a 17-year-old boy in front of the entire nation.
In fact he even managed to raise a smile as they were snapped strolling through the park and picking daisies (eurrgh, give me a break!).
And he seems to have totally overlooked the fact that it really does take two to tango.
Speaking to the friend, he said of Harry yesterday: 'Why should I feel anything but hatred for that little scumbag?'
But my argument is - who should have known better?
A teenager on the cusp of stardom, who was then aged just 17? Or a grown woman who had stood in front of her friends and family just a year earlier and made her wedding vows?
It wasn't as if Harry was alone in the flirting. Their 'romance' started when One Direction appeared on Key 103 radio in Manchester last August.
Listeners heard cheeky Harry tell Lucy: 'You look lovely today', to which she replied: 'Thanks Harry, so do you'. In a second visit they also joked about 'whips and chains'.
The pair spent a night together in the city's hotel (remember this was before Harry got his pecs appeal!) and then sent each other a stream of flirty messages, before hooking up for a rerun.
My point is this wasn't a one night stand where a vulnerable unhappy Lucy was swept off her feet by a tall dark mysterious Christian Grey type.
It was two-time premeditated hook-up with a teenage boy whose raging hormones and burgeoning fame probably meant he tried his luck with every girl or woman he encountered.
I don't want to knock Lucy too much. None of us have any idea what was really going on in her marriage, or why her self esteem was so low that she fell for the teenager lavishing her with attention.
All I would warn say is, Oliver, rather than putting all the blame on a popstar schoolboy - who claims he thought she was a free agent - perhaps you should look in more than one direction.
SEE PICTURES Harry Styles and One Direction perform on German TV show>>
SEE EXCLUSIVE VIDEO Teen Now meets Harry Styles and One Direction>>
SEE VIDEO One Direction mobbed by screaming fans in London>>