Friday 29 June 2012
Dan Wootton's celebrity hero and villain of the week: Alanis Morissette and Big Brotherís Caroline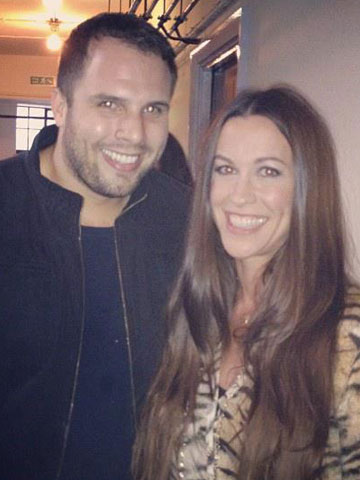 Dan Wootton with his hero Alanis Morissette
HERO: ALANIS MORISSETTE
They say don't meet your heroes, but I'm ecstatic - and very lucky - that I did this week.
On Wednesday night I got the opportunity to come face to face with Alanis Morissette - a singer who has been a huge part of my life since I was 11 years old.
The Canadian could not have been more welcoming, as I joined her backstage at her sold out, one-off London concert at the Brixton Academy.
I also feel very privileged to have had a preview of the new mum's forthcoming album Havoc and Bright Lights, which is an incredible collection of songs.

It's out at the end of August and should return her back to the top of the charts where she belongs.
VILLAIN: BIG BROTHER'S CAROLINE
Her voice is bad. Her attitude is so much worse. In fact, 20-year-old Caroline Wharram is shaping up into one of Big Brother's most detestable contestants in history.
But, as a result, she is making for great TV, with her near constant bitching, moaning and whining.
That said, when she described contestant Adam as a 'ridiculous gorilla' with 'no sanitation' this week in another nasty rant, she crossed the line.
In my opinion there were racist undertones and I'm glad Big Brother producers have now issued her with a formal warning.
PICTURES Big Brother 2012 housemates - they're in the house>>
WEDDING JOY! 2011 Big Brother housemates Louise Cliffe and Jay McKray get married>>