Thursday 28 June 2012
Katie Price's sordid sex sessions with Alex Reid and a vodka bottle REVEALED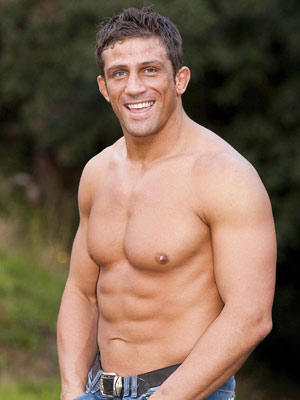 Alex must have buns of steel
So, tell me - who raised their eyebrows when they heard the news that
Katie Price
had 'f*cked ex hubby
Alex Reid
up the arse with a vodka bottle'? (Her beautiful words, not mine)
Yup - as Now revealed, a classy-as-always Katie stunned journalists with the revelation while promoting her new book In The Name Of Love at a press conference earlier this week - but seriously, is anyone really shocked?

I reckon there's no way that's the kinkiest sex act those two have got up to. Nooooo way.

For a start, the man likes to dress in fishnet stockings, a thong and bra as his alter-ego, Roxanne..

But while we're on the subject, I figure I may as well give you the lowdown on the top ten foreign objects found in people's bums.
After all, it is one of life's burning questions. So, drum roll please...

10: Glass bottle
The most common of all. Standard excuse: 'I was going to the toilet and accidentally fell onto it.' Yeah, right...

9. Mobile phone
An increasingly popular problem since they've got smaller.

8. Vibrator and salad tongs
OK - I get the vibrator, but salad tongs? Apparently one poor individual tried to fish the vibrator out with the tongs and got them stuck in the process. Unlucky!

7. Tennis ball
Will you ever watch Wimbledon in the same way? #NewBallsPlease

6. Live ammo
A story best left at war, don't you think?

5. Concrete enema
In case you don't already have the pleasure of knowing, enema is a procedure whereby liquids are introduced into the rectum and colon via the anus. (How very scientific!) And the liquid of choice for one US couple? Concrete. Yikes!

4. It's quantity, not quality...
A prisoner in America concealed 17 pills, one cigarette, six matches, one flint, one syringe, one lip balm, one condom, one receipt and a coupon in his rear end.

3. Barbie
She's been where no Barbie should ever go.

2. Hamster
Apparently, the discovery of small rodents is a common problem. Poor little mites...

1 . 78 piece cutlery set
Jingle jangle. #justsaying
SEE PHOTOS Katie Price and Leandro Penna: a love story in pictures>>
SEE PICTURES Katie Price and Alex Reid's love story in photos>>
SEE PICTURES Kate Price and Peter Andre: A love story in photos>>