Friday 22 June 2012
Dan Wootton's celebrity villain and hero of the week: Lily Allen and Westlife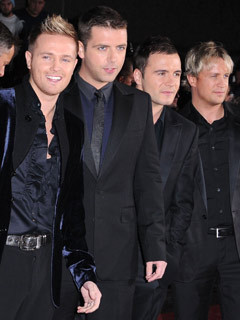 Westlife are winding up - for now
HERO:
WESTLIFE
Most boybands self-destruct within 5 years, so Westlife going strong after 14 years is nothing short of incredible.
This weekend they play their last gig ever (well, until the inevitable reunion tour at least) in Dublin and it's bound to be emotional.
Only one last time to hear Flying Without Wings, Fool Again, When You're Looking Like That and, er, Bop Bop Baby live!
But as their manager Louis Walsh told me this week, Westlife will be going out still on a high.
That's pretty remarkable.
VILLAIN: LILY ALLEN
While it disappoints me to give Lily the attention she so craves, this immature popstar has managed to do it again.
Why make a huge deal about retiring if you're going to return to the recording studio only two years later?
Why moan about being a popstar consistently then put yourself up for more fame which you apparently hate?
I'll tell you why. Lily Allen, regardless of what she says, is desperate to be a celebrity, desperate to stay relevant and, in my opinion, desperately dull.
SEE PICTURES Lily Allen marries Sam Cooper - see their wedding photos>>
SEE PICTURES The life of Lily Allen - her story in photos>>
SEE PICTURES Lily Allen Style File>>