Thursday 21 June 2012
Why I'm so upset about sexy Johnny Depp's love split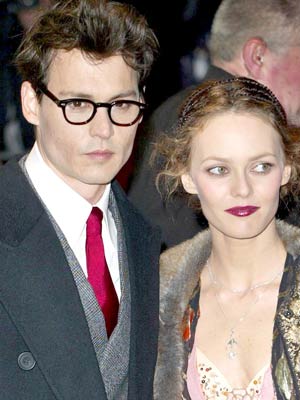 Johnny Depp and Vanessa Paradis in happier times
Of all the celebrity splits I've heard about recently, I was absolutely gutted to find out about the breakdown of the 14-year relationship of
Johnny Depp
and
Vanessa Paradis
.
When I saw his publicist's minimal statement this week confirming the couple had 'amicably separated' my first thought was: what a great shame.
The couple had famously never married, but they seemed to be above that, beyond that - a ridiculously cool pair that didn't need a piece of paper to prove their love.
Instead they floated about the world, at their retreat in France, on their private Caribbean island, at their canalside palazzo in Venice; each as gorgeous as each other, doting on their two perfect children Lily-Rose, 13 and Jack, nine.
Johnny talked glowingly about how he fell in love with the back of Vanessa's neck first, at a party, and was 'stupified' by her beauty when she then turned around and looked at him.
They were a match made in heaven - the ultimate inspiration to all us romantics - and it's beyond disappointing to see their love now apparently had a shelf life.
Like most women with a pulse, I find Depp sexy - even though he's about to turn 50.
And as he was voted Hottest Man Of The Year in Now's recent readers' poll, you clearly agree with me.
His individual style, his soft voice, his deep brown eyes, his huge intellect and his clearly genuine kind and gentle streak, mixed with a bit of bad boy, is a pretty intoxicating combination.
And who's to say what goes on in any relationship - but if the showbiz rumours are to be believed and Johnny's already bought his The Rum Diaries co-star Amber Heard (who at 26, is 23 years younger than Depp) a horse so that they can go riding together, and if she's really been spotted secretly visiting him on the set of his new film, I sincerely hope he's not just ended up trading in his current model for a younger, newer one.
Because I've always thought Johnny Depp is cool.
And that would be a pretty uncool thing to do.
Johnny Depp was voted one of Now's 50 sexiest men ever>>
SEE PICTURES Johnny Depp at the Pirates Of The Caribbean: On Stranger Tides premiere>>