Thursday 21 June 2012
Robert Pattinson's dead to me now, Twilight Breaking Dawn - Part 2 leaves me cold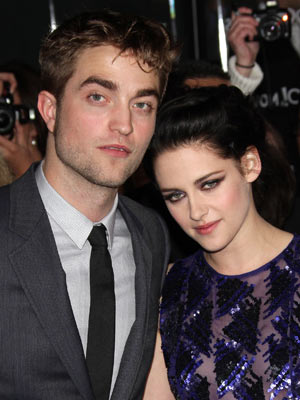 Robert Pattinson and Kristen Stewart no longer obsess me
My inner teenager got wildly excited when I saw the new trailer for
Breaking Dawn - Part 2
online today.
But something about the 1min 17sec teaser left me cold - and not in an icy-skin vampirical sense.
It had all the ingredients; lingering shots of Robert Pattinson, topless shots of Taylor Lautner ...oh and lots of good Volturi action.
But could I get excited? Actually, no - my heartbeat was nearly as still as Edward Cullen's. So has my mental age finally caught up with my real age? Is my inner teenager finally growing up? Er no.
The simple fact is: I used to like my men to sparkle. Now I like them Grey.
Quite frankly a long long time has past since I had my head buried in Stephenie Meyer's Twilight trilogy.
Since getting sucked into the slow burn romance of Edward and whiny Bella Swan, we've been through the love triangle of Katniss Everdeen, Peeta Mellark and Gale Hawthorne in The Hunger Games and it seems the entire world is obsessed with the latest couple, Ana Steele and Christian Grey in the Fifty Shades Of Grey.
EL James' S&M cliterature started life as online fan fiction about Edward and Bella. But now the saucy reads have become the fastest-selling paperbacks and have created a much more enticing, grown up and addictive romance of their own.
Don't get me wrong - while far from prudish, S&M does not float my boat. But let's be honest, the more grown-up read beats waiting as long as we have to finally see Edward get his happy ending with Bella.
So now it's Fifty Shades I really can't wait to see hit the silver screen. And I'm certainly not the only one.
While actresses have been slow coming forward, the role of Christian is being fought over by the likes of Ryan Gosling, R-Pattz and Michael Fassbender.
And after American Psycho director Brett Easton Ellis attached himself to Universal's project it's looking highly likely the coveted role will end up going to the hugely talented and smoking hot Ian Somerhalder. (The pair have been Tweeting each other about it all week).
Fans of The Vampire Diaries will already know what this means - long lingering shots of Ian flashing his very, very impressive chest and reducing any girl watching to a quivering wreck with the slightest arch of his eyebrow.
(And as a slight aside, unlike with Rob, we can even feel slightly worthy when we perv over 33-year-old Ian as he actually has his own Ian Somerhalder Foundation, a charity which helps the environment AND animals.)
So, before I go off into my own daydream ... yes, I admit, I will still no doubt be first in line for a ticket to see Breaking Dawn - Part 2, but it's just a formality. Just like actors R-Pattz and K-Stew, I've moved on from Twilight. Haven't we all?
SEE PICTURES Robert Pattinson and Kristen Stewart's love story>>
SEE PICTURES Twilight - an international phenomenon>>
SEE PICTURES The rise of Robert Pattinson>>
SEE PICTURES Robert Pattinson mobbed by fans on Remember Me set>>
SEE PICTURES Robert Pattinson stars in Twilight - an international phenomenon>>