Tuesday 19 June 2012
One Direction's Zayn Malik's tattoo looks like a penis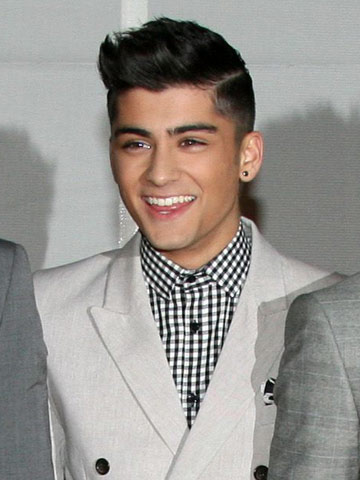 Zayn Malik. 'Penis' tattoo not pictured
Zayn Malik's skin is heading in One Direction - Inksville. The singer unveiled yet another tattoo this week, a large microphone on his right arm. But unfortunately for Zayn, 19, at first glance it looks like a penis!
No wonder One Direction pals Harry Styles, Liam Payne, Louis Tomlinson and Niall Horan were taking the mickey out of Zayn onstage, holding their real penises (sorry, microphones) against their arms.
Zayn's penis (sorry, microphone) isn't his first tattoo. He already has...
A Yin and Yang symbol - on his wrist.
His grandfather's name, in arabic - on his chest.
Crossed fingers - on his forearm.
Silver fern (the symbol of New Zealand) - on his back.
An arab inscripton - on his collarbone.
A playing card - on his side.
A heart, covers up another tattoo - 'born lucky' in japanese - on his hip.
Some people think there are all sorts of deep, psychological reasons why people get multiple tattoos. Do they hate the skin they're in? Are they desperate to be individuals? Do they want other people to think at first glance that they've got penises on their arms? Who knows.
At least it hasn't got 'muscial notes' coming out of the 'end'.
Do you like Zayn's penis (sorry, microphone)? Let me know...
NEW PICTURES Half-naked Harry Styles shows off hot body with One Direction on luxury yacht in Australia>>
NEW PICTURES One Direction show off hot new hair in sexy magazine shoot>>
SEE PICTURES One Direction sign copies of album Up All Night in New York to mark US release>>
SEE PICTURES One Direction teen star Harry Styles' rise to fame>>
SEE PICTURES Zayn Malik and One Direction perform new song Gotta Be You on German TV show>>
SEE PICTURES Zayn Malik and One Direction at Capital FM Jingle Bell Ball 2011>>
SEE EXCLUSIVE VIDEO Teen Now meets Zayn Malik and One Direction>>
SEE VIDEO One Direction mobbed by screaming fans in London>>