Monday 18 June 2012
Why has it taken you so long to show us your wild side, Cheryl Cole?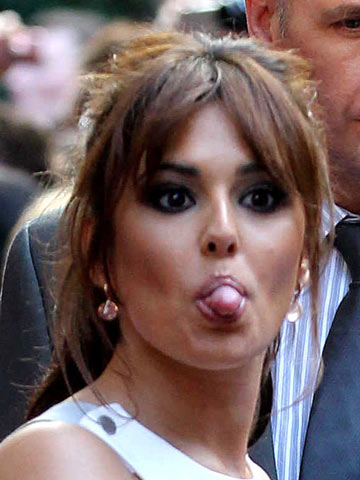 Cheryl Cole gets cheeky
Wow! I hate to say it but hats off to
Cheryl Cole
!
Finally, yes finally, a
wild
party loving
Cheryl Cole
emerged last weekend as she performed in front of thousands of fans.
Ok so where do I start?

Not only did she use the f-word during a frantic performance of her song Screw You but then, to celebrate Call My Name reaching no.1 in the UK singles chart over the weekend and becoming the fastest-selling track of the year, she downed a shot of tequila on stage.

Ah, a girl after my own heart!
Wearing a flattering sequined outfit revealing an incredibly toned bod, Cheryl Cole, 28, hit the stage at Heaven for a G-A-Y night on Saturday in front of 2,000 people and performed four tracks from her album A Million Lights.
Long gone are the days, I hope, when I'm faced with pictures of a gaunt and fragile looking Cheryl or worse, a stand-offish Cheryl.

Long may this version of Chezza last.
SEE PICTURES Cheryl Cole and Nicola Roberts support Girls Aloud bandmate Kimberley Walsh at her Shrek debut>>
SEE PICTURES Kimberley Walsh - Girls Aloud kick off Out Of Control tour>>
FASHION GALLERY SPECIAL Cheryl Cole's fashion history - the highs and the lows>>
NEW PICTURES Cheryl Cole wears nude dress to meet Prince Charles>>
SEE PICTURES Cheryl and Ashley Cole: The story so far>>
MORE PHOTOS Cheryl Cole looking red hot at the Elle Style Awards 2011>>
SEE PICTURES The life of Ashley Cole's ex Cheryl Cole>>
MORE PHOTOS Cheryl Cole looking red hot at the Elle Style Awards 2011>>