Friday 15 June 2012
Donít hate me, girls: Iíve cosied up with sexy One Direction, The Wanted and JLS!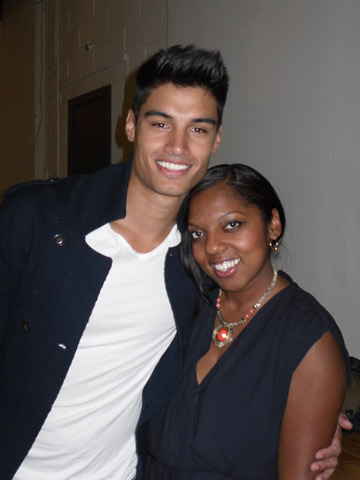 It's a Scorpio thing
Au revoir, farewell, Auf Wiedersehen, goodbye-ee... As I bow out of my last ever day at NOW magazine, I'll take with me and cherish my favourite boyband memories.
Yes girls, I've cosied up to your fave heartthrobs over the years just so I can report back with all the juicy details just for your reading pleasure!

It was all purely for professional purposes, honestly. I didn't for one minute enjoy snuggling up to sexy One Direction star Zayn Malik, spending the night in a hotel with JLS or being locked up by The Wanted.

Here are my boyband's greatest hits. Drum roll please...

Cougar alert with One Direction
They're now the biggest boyband in the world but my first encounter with them at a private film screening at Soho Hotel was certainly an experience.

We were all mesmerised by the handsome five piece but the boys didn't have a care in the world. They spent most of the time giggling and chucking popcorn at each other.

I can report the boys are even hotter in the flesh. Zayn is quietly sexy with the whole bad boy thing bubbling under his shy exterior while Harry Styles's hair is even more impressive close up.
But Louis Tomlinson, Niall Horan and Liam Payne can all hold their own in the hot stakes. Can they rival the popularity of The Beatles? The Beatles weren't hot. Fact.
Captured by The Wanted
Two years ago I watched an unknown band play one of their first big gigs at The Clothes Show Live. I loved their vibe but had no idea that these newbies would turn into international popstars!
Step forward The Wanted.
The boys are brilliantly funny, polite and and Siva Kaneswaran is even more chiseled close up. Cheekbones to die for and we're birthday twins so what's not to love?
But I never imagined that the day would later end with me being locked in a room by the cheeky pranksters while they giggled outside and refused to open the door.
Yes this really happened and even more embarrassingly we later found out that the door was actually stuck - not locked - and we'd all spent 30 minutes frantically banging on the window and screaming at them for no apparent reason.

Oh, and to add insult to injury, the boys filmed the shameful episode - including our groveling apologies - and it's now on YouTube! Kill. Me. Now.

Hotel and sex talk with JLS
Don't tell anyone but these boys are hands down my fave boyband!
Fame hasn't changed them in the slightest and they're still the humble, down to earth and fun boys I've always known and loved.
We've probably had a little too much fun over the years though. From the champagne fuelled night we partied together (Jay-Z tagged on too!) after they'd won their Brits to a naughty lock in with them at a hotel in 'glamorous' Ipswich!

My hazy memories of the night include some X-rated conversations about sex toys and a rather naughty discussion about one of the band's rather large, er, manhood.

To protect the guilty I won't reveal which member but I can confirm it's definitely a contender for the most impressive package in pop. *covers eyes*

It's certainly been a roller coaster ride (with lots of screams along the way - mainly from me!) but as I leave today I'll take with me not only the memories but their signature condoms, fragrance and their mobile numbers... shhhhh!
SEE PICTURES One Direction sign copies of album Up All Night in New York to mark US release>>
SEE PICTURES One Direction continue US tour without Zayn Malik>>
NEW PICTURES One Direction and red carpet guests at the Brits 2012>>
SEE PICTURES Harry Styles and One Direction perform new song Gotta Be You on German TV show>>
SEE PICTURES Harry Styles and One Direction at Capital FM Jingle Bell Ball 2011>>
SEE EXCLUSIVE VIDEO Teen Now meets Harry Styles and One Direction>>
SEE VIDEO Harry Styles and One Direction mobbed by screaming fans in London>>