Friday 15 June 2012
Myleene Klass has shown such dignity dealing with her devastating split from Graham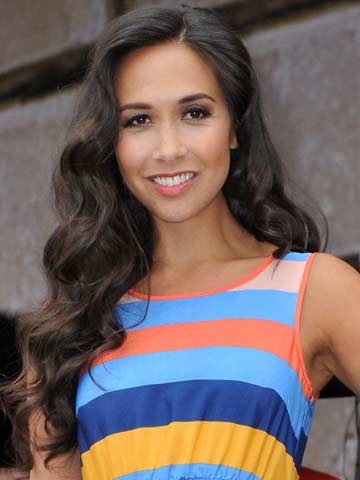 Myleene Klass has put on a brave face
OK - I have to admit, I've always had something of an irrational dislike for
Myleene Klass
.
Harsh, I know - and it's totally unfair seeing as I've never even met her, but to me, she just comes across as a bit smug on TV, and I find her incessant smiling really annoying.
But putting all my unfounded jibberish aside, I've always secretly admired the fact she's a real family gal.
There aren't many celebs who, at Myleene's age of 34, can say they've been in an 11-year relationship.
That shows such loyalty and commitment, which is so rare in the showbiz world where there's always so much temptation.
And just because I don't like her gritted-teethed grin, she certainly didn't deserve to have her heart broken into a thousand pieces by hubby Graham Quinn, who she married just seven months ago and is father to her two beautiful children, Ava, four and Hero, 14 months.
As Now revealed this week, after returning from a five-week tour with JLS, Graham just dropped the bombshell that their relationship was over. Ouch.
Just like that - with friends of the couple since saying that he just doesn't love her anymore. Mega ouch!
And it's clear to see how much the split has hurt her, too.
Myleene's practically wasting away, yet somehow she's still managing to put on a brave face, turning up for all her work engagements and I think that's pretty incredible.
Having just come out of a seven-year relationship myself, I know how hard it can be to put on that brave face when the last thing you want to do is smile and socialise.
So well done, Myleene. The way you've dealt with this heartache just goes to show what a true professional you are - you've handled it with such dignity.
So much so that I feel guilty for ever being so internally mean to you! *sends telepathic apologies*
SEE PICTURES Celebrity splits 2012>>
SEE PICTURES Celebrity baby names A to Z>>
SEE PICTURES Celebrity baby births 2012>>
SEE PICTURES Pregnant celebrities>>