Tuesday 12 June 2012
Madonna shouldn't be embarrassed about nipplegate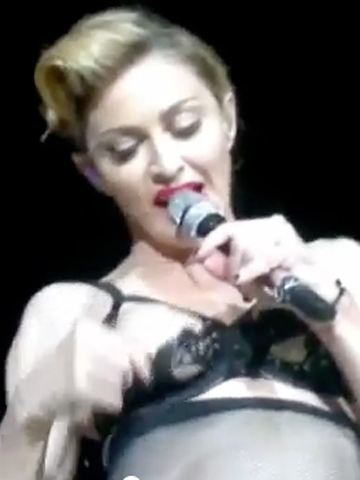 Madonna gets her nipple out during her MDNA tour in Istanbul
You're 53. You work out every day. You've got abs of steel. And you're one of the most famous women in the world.
Should it then be ok for you to whip your nipple out on stage during your tour for the whole world to gasp at?
Hell yeah.
I know, I know. You're thinking 'ew, she's a mum of FOUR for god sakes woman, put it AWAY.'
But hold that thought for a moment and let's review the facts.
This isn't just any 53-year-old mum who decided to jazz up her afternoon with a bit of light flashing.
This. Is. Madonna.
This is a woman who has spent 30 years in the spotlight specifically programmed to shock us.
Back in 1990 she made everyone's jaws drops with her 'controversial' Jean Paul Gaultier conical bra. It's now one of the most iconic looks of its time and has inspired everything from Diet Coke bottles to, er, roofs.
In 1992 critics declared she'd 'gone too far' when she published her book Sex, featuring pictures of her simulating sex acts.
It's now a seminal work of photographic genius that would barely make a generation of Fifty Shades of Grey readers bat an eyelid.
Then in 2009, some prudes declared her 'a dried up old lady' when she dared to flash the flesh again in fishnets for her Sticky & Sweet tour...meanwhile stores reported an uplift in sales of fishnet tights.
What I'm getting at here is that we've spent our lives loudly dissing her shock tactics - but quietly admiring her screw-what-everyone-else-thinks confidence.
At 53 she's all muscle and has the kind of body that I, 20 years younger, can only lust after.
So why shouldn't she use it to get attention? Why shouldn't she provoke us all to question how far is too far?
The most shocking thing for me is that in 2012 a world famous singer, on stage, showing off her right nipple is still capable of shocking anyone.
Faced with a choice between seeing Madonna's boobs or rewatching THAT Channel 5 TV show with Keith Chegwin in the buff in a jungle (look it up kids...actually don't), I know which one I'd opt for.
SEE PICTURES Madonna celebrates birthday on luxury yacht with Jesus Luz>>
SEE PICTURES Madonna and Guy Ritchie - a love story gone wrong>>