Tuesday 29 May 2012
OK, I get it now. Benedict Cumberbatch looked hot on the Bafta red carpet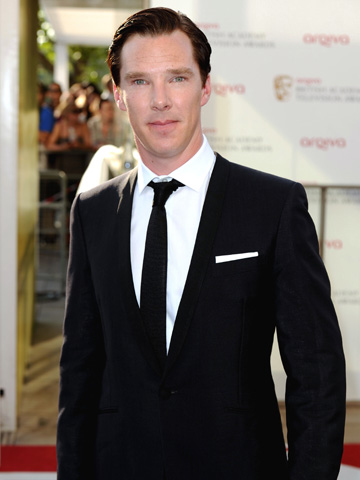 Benedict Cumberbatch looked hot at the Baftas. Literally.
There are many perks to being the deputy editor of
Now magazine
- but one of the best is that we spend a healthy chunk of most days poring over pictures of celebrity men and debating who we think is hottest right now. (It's hard work, alright.)
Sherlock star Benedict Cumberbatch's name often comes up in these heated discussions and I've got to say for months I just haven't got it.

Editor Sally has long been a Cumber-bitch describing 'those sea-green eyes that could make any cold-blooded murderess confess on the spot'.
The thing is *technically* he's not hot is he?

I've long stared at episodes of Sherlock mystified by what I'm supposed to see in him that's sexy.

The deathly pallor of a corpse, the lanky schoolboy posture, that awkward smile...Brad Pitt's not having any sleepless nights is he?
But then he walked down the Bafta red carpet on Sunday night. And boy can that man work a black tie.

He was also hot. I mean, genuinely hot.

Overheated in his suit as temperatues in London sweltered to 27C, Benedict could easily have slunk into the Royal Festival Hall where the event was taking place and bypassed all his swooning fans.
Instead he made an effort to sign so many autographs he had to go inside and put ice cubes on his wrists afterwards.

Kindness? Now that's a quality I can admire.
When asked what it was about him that made him so sexy, the 35-year-old Bafta nominee laughed: 'I don't know about being the sexiest man in the world. I am barely the sexiest man in my flat and I'm the only guy living there.

'It makes me laugh because I see all the faults - I have spent 35 years of my life with myself.'
Humiliy too? Smooth moves, Mr Holmes.
Add *those* topless pictures of him on the beach that we published in Now last week to the mix, and I think I'm starting to get where all you women who want to be Cumberbatched are coming from...
NEW PICTURES BAFTA TV Awards 2012>>
NEW PICTURES Benedict Cumberbatch's life in photos>>
NEW PICTURES See all the celebrities on the red carpet at the BAFTA Awards 2011>>
NEW PICTURES The BAFTA Awards 2011 - the after party>>
NEW PICTURES The BAFTA Awards 2011: The winners>>
PICTURE GALLERY The best dressed at BAFTAs ever>>
PICTURE GALLERY The worst dressed at BAFTAs ever>>