Thursday 10 May 2012
Is Rihanna heading for a Britney Spears style meltdown?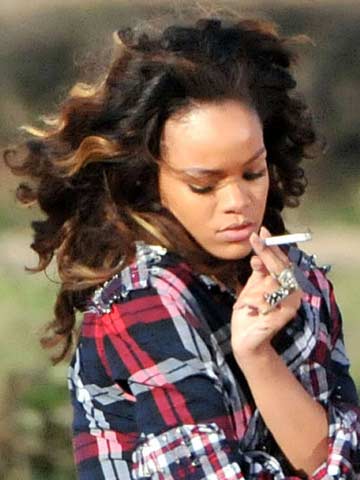 Is Rihanna crying out for attention?
Last night,
Rihanna
Tweeted a disturbing photo of herself hooked up to a hospital drip just hours after allegedly 'necking champagne' at the
Met Ball
- and all without a word of explanation to her worried fans. (US sources have since reported she's been treated for exhaustion.)
So what's really going on with
Rihanna
?
I know she's always been kinda 'out there', but I'm actually starting to worry - to the point where I wouldn't be surprised if we found out tomorrow that she'd nipped down to her local salon and sheered all her hair off in true bald-
Britney
fashion.
It just seems as though everything the super-talented star does right now is for attention.
There's the see-through sweaters, the ever-changing hair colour, and the persistent posting of controversial pics without any explanation.
Like that one three weeks ago, which showed her 'cutting up' a white powdered substance on top of a man's head at LA music festival
Coachella
.
I get that celebs want to push boundaries and make statements -
Lady Gaga
does it so well, standing up for minority communities whose voices often go unheard.
But what's
Rihanna's
motivation? On her Twitter account she simply says: 'I'm crazy and I don't pretend to be anything else.'
Fair enough, I guess. But she's a role model to millions of impressionable young fans...
And I'm a huge fan, too! So the last thing I want is for her to go all
Li-Lo
on us. Because when that happens it's a tough road to recovery.
Let's face it, Britney's never really made it back - and we're still tentatively waiting for a verdict on the outcome of Lindsay Lohan's career revival.
So rest-up and look after yourself, Rihanna. We don't want to lose you - you're too talented for that.
Do you think Rihanna's crying out for attention?
SEE PICTURES Celebrity Hair: Rihanna>>
SEE PICTURES Rihanna in Stars step out at the Grammys 2012>>
SEE PICTURE Rihanna's new pink knuckle art>>
NEW PICTURES Rihanna is mobbed by fans on Belfast housing estate>>
NEW PICTURES See Rihanna shooting video for We Found Love in Northern Ireland>>
SEE PICTURES Rihanna's style file>>
SEE PICTURES Rihanna's rise to fame>>