Friday 04 May 2012
Dan Wootton's celebrity villain and hero of the week: The Dictator and Dannii Minogue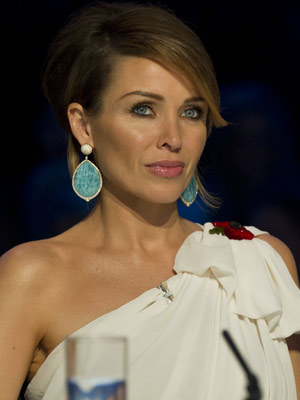 Dan Wootton's hero of the week: Dannii Minogue
HERO:
DANNII MINOGUE

She is set for an incredible comeback to The X Factor, if she wants it of course, and has done it by keeping a dignified silence during the most difficult of personal circumstances.

Many music snobs might not want to believe it, but Dannii is widely loved by us, the viewers.
She's an honest battler who spent years and years having to try and carve out a career in the shadow of her big sister Kylie.

But when she finally found the fame which made her a superstar in her own right, she wasn't scared to walk away and put her family first.
How many people give up a job on The X Factor? Only Sharon Osbourne before her, who may have jumped before she was pushed.

So I hope Dannii returns to the country's biggest show. She'll strengthen the line-up and, yet again, be a dedicated mentor.
But I know she'll only do it on her own terms. And good on her for that.

VILLAIN: BBC BOSSES FOR BANNING THE DICTATOR
Has there been something in the water over at the BBC this week? First they make the ridiculous decision to pre-record the Sunday results show of The Voice, without even giving poor Holly Willoughby a new frock.

And now they've gone and banned Sacha Baron Cohen's new character The Dictator from appearing on its chat shows.

Sure, they say they'll let the actor, who has also brought us Ali G and Bruno, come on as himself. But that defeats the whole purpose.

Sacha has spent his career developing hilarious characters. He is never going to go on The Graham Norton Show and talk about his marriage and children. But as The Dictator he would be absolutely hilarious.
The moment when he tipped an urn of 'Kim Jong-Il's ashes' over a furious Ryan Seacrest on the Oscars red carpet this year was the highlight of the entire awards.

Sure, the BBC might not be able to control everything he's going to do. But most of their chat shows aren't live and could easily be edited if things got out of hand.

I hope ITV snaps up the fictional dictator Admiral General Aladeen for some high profile appearances instead.
SEE PICTURES Dannii Minogue and Kris Smith's relationship in pictures>>
PICS Dannii Minogue and Kris Smith out and about with baby Ethan>>
FASHION GALLERY Dannii Minogue - a style icon>>
MORE PICTURES Dannii Minogue's hair styles>>