Friday 04 May 2012
Why Simon Cowell needs Dannii Minogue to put the sex back into The X Factor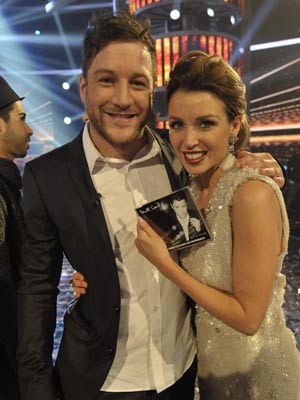 Dannii Minogue won The X Factor in 2010 with Matt Cardle
So,
The X Factor
2012 panel's coming together. This week veteran judge and all-round cheeky chap
Louis Walsh
was announced as the second judge, taking his place alongside serious-faced-yet-hot
Gary Barlow
, who was confirmed last month.
It's fairly likely ITV will next announce that newly-crowned FHM's Sexiest Woman In The World (don't get me started) Tulisa will line up between the boys, which leaves one seat left on the judges desk.
And I strongly believe the only bum allowed to sit on it belongs to Dannii Minogue.
Back in The X Factor glory days, when Dannii ruled alongside Simon Cowell, and was then moved down the line to chum up with Louis so Simon could flirt with Cheryl Cole, the show was never better.
During the 2009 season, speculating on how Dannii's short hair would be styled each Saturday and Sunday night became a national obsession.
She's also a smart girl with a sassy edge who adds some much-needed spice to the show: the SEX factor.
Something that was sorely lacking last year with the lacklustre pairing of Kelly Rowland and Tulisa.
And Dannii's brilliantly fiery. She doesn't take any crap - she's been in the business long enough and seen and done it all.
We've witnessed her catfights with previous panellist Sharon Osbourne and her girl power team-up with Cheryl Cole - and this year, I think she and Tulisa will complement each other.
Indeed, Tulisa's already come out to say she thinks Dannii's great, so they'll be BBFs if she re-joins the show.
Currently a highly successful Australia's Got Talent judge in her native country, Dannii needs to come home to the UK now where she belongs and get cracking on finding the next X Factor winner.
Something she's got a knack for - claiming victory twice in the four years she was on the show, with Leon Jackson (who?) in 2007 and Matt Cardle in 2010.
Whether or not she's annoyed with Simon for revealing their fling via 'that' biography last month, Dannii would be crazy not to grab the job of 2012 judge with both hands.
Simon, being Simon, will keep dropping other names into the frame right up until the end-of-May cut off date for announcing the last seat. Katy Perry's been mentioned, so has Nicole Sherzinger and even Cheryl Cole.
But I just know he's going to choose Dannii...come on Simon, we all know you want to...
SEE PICTURES Dannii Minogue and Kris Smith's relationship in pictures>>
PICS Dannii Minogue and Kris Smith out and about with baby Ethan>>
FASHION GALLERY Dannii Minogue - a style icon>>
MORE PICTURES Dannii Minogue's hair styles>>
SEE PICTURES Stars arrive at Simon Cowell's 50th birthday party>>
SEE PICTURES The photos of Paul Abdul and Cheryl Cole Simon Cowell didn't want you to see>>
SEE PICTURES Simon Cowell in Celebrity Smokers: VIPs who love a fag>>