Thursday 26 April 2012
One year on, Kate Middleton's still got Prince William wrapped around her finger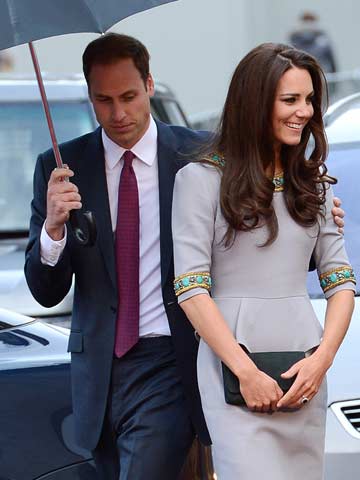 Prince William keeps Kate Middleton dry at London premiere
On Sunday, Britain's most famous couple celebrate their first wedding anniversary.
We all remember where we were this time last year as we got that first glimpse of Kate Middleton's dress.
And the look of pure love and admiration on Prince William's face as she glided up the aisle of Westminster Abbey to marry him.
Last night the royal couple attended a film premiere in London together, and as the rain lashed down, it was William himself rather than a minder who chivalrously held an umbrella protectively over his precious wife (although I bet that famous hair of hers would still look stunning soaking wet).

It was clear to anyone who saw them - by the way Wills gently stole glances at his glowing wife and the way that absolutely everyone else's eyes were on her too - that Kate is the leader in their relationship.

Well-groomed in royal protocol, Kate of course knows her place as the future King's wife.
But seeing her work the room, chatting confidently to the stars of the film, was a definite clue to how she's more than a match for her more-experienced hubby.
And that's absolutely the partner in crime we always wanted for William - a headstrong, independent woman, instead of a subservient, timid Lady-Something-Or-Other girl.

So, one year down, what does the next year of marriage hold for Kate?
I'd be very surprised if she wasn't rocking some high fashion maternity wear by Christmas and this time next year we were all excitedly looking forward to the imminent birth of the Duke and Duchess of Cambridge's heir.
And of course, speculating on just how brilliant Kate will be as a mum. Place your bets now!
SEE PICTURES Kate Middleton wears Orla Kiely dress for Royal engagement in London with Prince Charles>>
SEE PICTURES Kate Middleton keeps dress hidden under chic grey coat at first Royal engagement without Prince William>>
SEE PICTURES Kate Middleton Style File>>
NEW PICTURES Kate Middleton and Prince William visit riot victims in Birmingham>>
NEW PICTURES Kate Middleton and Prince William dazzle in LA>>
NEW PICTURES Prince William and Kate Middleton on their visit to Prince Edward Island in Canada>>
NEW PICTURES Kate Middleton dazzles at ARK event>>