Friday 06 April 2012
My celebrity villain and hero of the week: Chris Brown and Alesha Dixon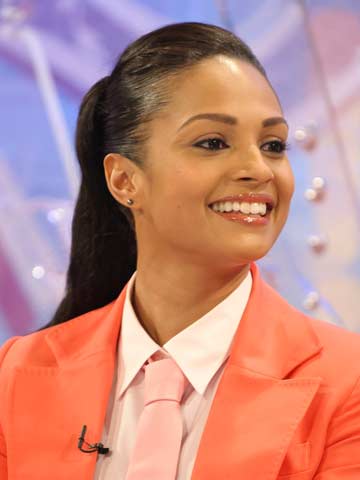 Alesha Dixon is now back on form
HERO: ALESHA DIXON
Watching Alesha Dixon's debut as a judge on Britain's Got Talent over the last two weeks has reminded me of the girl who first burst onto the scene as a fun-loving - and feisty - member of Mis-Teeq all those years ago.
Yes, the Alesha I know and love is back baby! Her button-downed role as a Strictly Come Dancing judge was never a good fit, in my opinion.
So it's now official: Alesha, you made the right choice to ditch the BBC for Simon Cowell.
VILLAIN: CHRIS BROWN
Sorry to all the people who keep telling me to give this man a second chance, but I just can't. The fact Chris Brown is No 1 on the UK singles chart this week upsets me enough.
But Rihanna's very public defence of the man who beat her black and blue is even worse.
It's not that I don't believe bad behaving celebrities can be reformed. But the fact is Chris' behaviour to this day continues to be boorish.
I vowed to boycott buying his music back in 2009 and, until I see some genuine remorse, that will continue.
SEE PICTURES Celebrity Hair: Rihanna>>
SEE PICTURES Rihanna in Stars step out at the Grammys 2012>>
SEE PICTURE Rihanna's new pink knuckle art>>
NEW PICTURES Rihanna is mobbed by fans on Belfast housing estate>>