Thursday 05 April 2012
Beware One Direction - step away from Justin Bieber!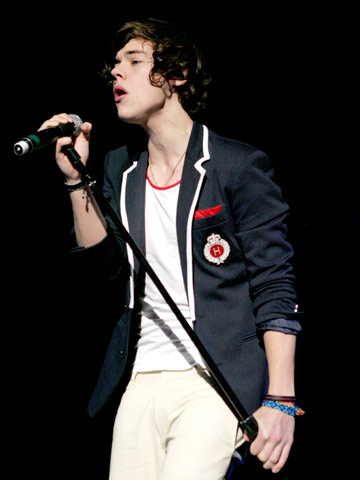 Will Harry Styles team up with Justin Bieber?
I just knew that once our lovely One Direction boys jumped the pond to find success in America they'd get contaminated - but by Justin Bieber? Tell me it's not true!

Today, Niall Horan tweeted that the boys were hanging out in the studio with Bieber and now rumours are circulating that they'll unite baby faces and record a joint single.
Apparently, the pop world is even set to implode. I can hear the screams now. *reaches for earplugs*.

Look, I've loved 1D since the first time I set my gooey eyes on them. While watching The X Factor on TV, I told Harry Styles in a Louis Walsh-style voice: 'You're just like a young Mick Jagger.' (I was talking more about the big lips, than the raw rock talent, obvs.)

But as the boys shot to fame it was clear there was something special about them that went further than just their boyish good looks.
They had an energy that was natural, not contrived; a fashion that despite wearing coordinated colours still seemed effortlessly cool (well done stylists); and the unnatural ability to perform upbeat pop songs designed for lovestruck teens without the cheese of early Take That - and all the boybands that followed.

Basically, they had edge - that thing that wooed 32-year-old Caroline Flack and finally made all us women breath a sigh of relief and say out loud: 'My name's Nicola and I fancy a 17-year-old,' without feeling like we were going to get arrested.

Yes, our boys have achieved so much. They've become the first British group to get their first album to enter the US chart at number one, which is something not even The Beatles have done.
But their greatest achievement in my eyes is that they've somehow made boy bands cool - which, may I add, Justin Bieber IS NOT.

I'm not even going to begin discussing his 'music' else I'll never be able to get that awful 'Baby' song out of my head. (Damn, it's in there already!)
Then there's the way he dances - like out of the nineties. Then there's the way he sometimes grabs his crotch. #unneccesary.

Obviously, Bieber must be in need of creating a bit more 'fever' at the moment and is wanting a slice of the 1D cake - but I didn't order cheesecake.
On top of that, it's also been announced that 1D might get their own TV show in America. Oi! What about us? *waves* Can we just have our boys back now - before any damage is done?
SEE PICTURES Louis Tomlinson and Eleanor Calder in LA>>
SEE PICTURES One Direction continue US tour without Zayn Malik>>
SEE PICTURES One Direction wow at Wolverhampton warm-up concert ahead of Up All Night tour>>
SEE PICTURES One Direction and red carpet guests at the Brits 2012>>
EXCLUSIVE PICTURES Caroline Flack shows off exactly what Harry Styles sees in her>>
NEW PICTURES One Direction teen star Harry Styles' rise to fame>>
SEE VIDEO One Direction mobbed by screaming fans in London>>
NEW PICTURES One Direction promote new single What Makes You Beautiful on Radio 1>>