Tuesday 24 January 2012
What Caroline Flack's new hair says about her relationship with Harry Styles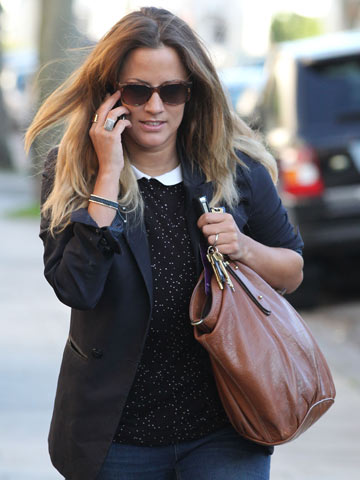 Caroline Flack spent five hours at the hairdresser's
'Admit it, you've thought about snogging
Harry Styles
haven't you?'
This is a debate we regularly have in the Now office, followed by lots of giggling and denials. And then a pause, before: 'yeah, but you would wouldn't you?'
So when Caroline Flack, 32, spent five hours at the hairdressers today getting her hair chopped into a long bob, we knew what was going on. It's all the proof we needed, really.
She's in love with the 17 year old One Direction hottie, isn't she?
You see, I've got a theory. When you start to date someone you instinctively start to mimic their looks and behaviour.
Take exhibit A: Jordan. When she first fell in love with Peter Andre, it took a matter of weeks before she dyed her blonde hair dark to match her new beau. They went on to get married and have two babies (let's ignore what happened next).
Caroline protests on Twitter that she wanted to swap her long dip dye blonde locks for a slick brunette bob ready for the National Television Awards on Wednesday. But we all know the truth.
Harry, we dare you to cut your hair into a Mohican and see what happens.
EXCLUSIVE PICTURES Caroline Flack shows off exactly what Harry Styles sees in her>>
SEE PICTURES Harry Styles and One Direction perform new song Gotta Be You on German TV show>>
SEE PICTURES Harry Styles and One Direction at Capital FM Jingle Bell Ball 2011>>
SEE EXCLUSIVE VIDEO Teen Now meets Harry Styles and One Direction>>
SEE VIDEO One Direction mobbed by screaming fans in London>>
NEW PICTURES One Direction promote new single What Makes You Beautiful on Radio 1>>