Friday 11 March 2011
Give Kate Middleton a break!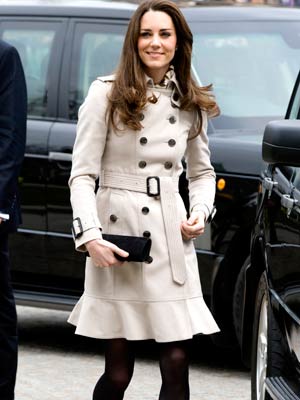 Kate Middleton's already started carrying out royal engagements ahead of her April 29 wedding
There have been loads of stories written by 'concerned' journalists and media commentators in the past month about Kate Middleton's weight - or lack of it.
From America to Australia, everyone's talking about how our future Queen seems to be getting pretty skinny. We even took a look at her diet and fitness regime in Now.

But if Kate is too slim, as some think she is, why does this immediately mean everyone has to compare her to the woman who would've been her mother-in-law, Diana Princess of Wales?
And in a doom and gloom way too - ambiguously hinting that Kate could contract an eating disorder like Diana's well-documented one because of the strain of it all.

She won't. Kate is organising a wedding. A big white one. This kind of pressure makes all brides feel a bit stressed, which tends to make weight fall off all by itself.
Factor in that it's not just some school friends, workmates and family who'll watch her take her vows but over a billion viewers around the world, and that's got to kick-start a girl's adrenaline.

Also, all brides want to look the best they can for their big day and for most this means dieting a little to fit into the dress. Obviously Kate doesn't need to in the slightest - in fact I bet she could have a fry-up for every meal and still look svelte - but she's a normal girl like you and me who's bound to be (consciously or not) watching her figure six weeks before her wedding.

What will not be helping her in the slightest, are those 'royal watchers' ignoring the poised and friendly way Kate's carried out her first three official engagements and preferring to focus their zeal on her outfit choices or measuring daily how thin she is.

They warn Diana's dress had to be taken in so much in the build-up to her wedding to Prince Charles that it almost didn't fit properly. One even said they don't want Kate to 'shrivel up' the same way.

Luckily this is 2011 not 1981 and Kate is not going to shrivel up. She clearly has a mature head on those shoulders and a loyal and close family right behind her.

She's also getting masses of support and guidance from the palace, something that Diana seemingly wasn't offered. Kate's not being thrown in at the deep end of royal life - instead she's being allowed to very gently dip her toe in the water for a bit first.

But I'd say the major difference between the two women is that Kate's fiancé Prince William loves his future bride completely.

She may be wearing Diana's engagement ring, but she is not Diana.
PICTURES Skinny Kate Middleton prompts weight fears>>
SEE PICS Kate Middleton and Prince William revisit St Andrews>>
MORE PICS Kate Middleton and Prince William launch a lifeboat>>
PICTURES Skinny Kate Middleton prompts weight fears>>
MORE PICTURES Prince William revealed! Amazing facts about Kate Middleton's man>>
SEE PICTURES Kate Middleton and Prince William: Their love story in photos>>
NEW PICTURES Kate Middleton and Prince William attend wedding>>