Friday 18 February 2011
Exclusive gossip from the Brits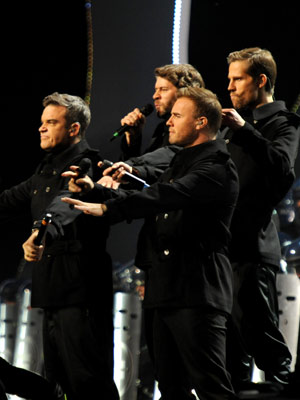 Take That And Party Animal!
It's Tuesday night and the third party in three days,
the Brits
! I'm a trooper though and mish mash the previous two nights suits to make a new outfit, phew.
The 02 is buzzing with excitement for this years Brits and I take to my seat for the show. As you all saw, it was a toss up between Take That and Rihanna for performance of the night.
Popping into the official Brits after party, it wasn't really a celeb packed affair. I bump into Liz McLarnon on the phone outside who says 'I should go really, I've drunk enough and have to be on TV tomorrow morning!'
Inside the British inspired marquee (including full size double decker turned into a bar) I say a quick hello to Gary Lucy and decide it's time to hunt out the A-Listers!
There are so many Brits after parties it's difficult to decide which to attend (and get invited to!) out of the decent ones. I make my way across to the Brits Universal after party at the Savoy while a fellow Now spy goes to Floridita in Soho for an alternative do.
She tells us she spied Simon Webbe snogging a hot brunette in full view of everyone and spoke to Chipmunk who only turned up at 2am saying 'I got to meet Alexis Jordan, who I love, now it's time to party!'
Our spy also said that she saw Jack Tweed looking very lonely and sad. He had his hand up one girl's skirt as he chatted to her (and was pretty sure he still wears his wedding ring!) EEW!!
The Universal Brits after party was a slightly classier affair with Beefeater Gin cocktails and champagne all round. It was a bun fight to get in but always worth it.
I have a quick chat with TV's Caroline Flack who certainly had had a few before settling in by the bar with lovely Sara Cox and Scott Mills from Radio 1.
We caught up with Take That's Jason Orange who was being mobbed but chatted for a minute telling us he was single and took a liking to 1Xtra's gorgeous Sarah-Jane Crawford remarking on her luscious lips!
The always lovely Katherine Jenkins was highly amused when I told her about batty Vivienne Westwood's speech the night before seeing as she was wearing one of her numbers that night!
I hear from someone that goody bags are worth a whopping £3000 but alas I think they were for only for the stars. Looks like next year I'll still be in my Tesco suit, phew!
NEW PICTURES The Brit Awards 2011>>
NEW PICTURES Brit Awards 2011: Stars party after the Brits>>
NEW PICTURES Cheryl Cole's sexy black backless dress shows off new tattoo at The Brit Awards>>