Monday 25 June 2012
Living it up at Lovebox – how I got my festival look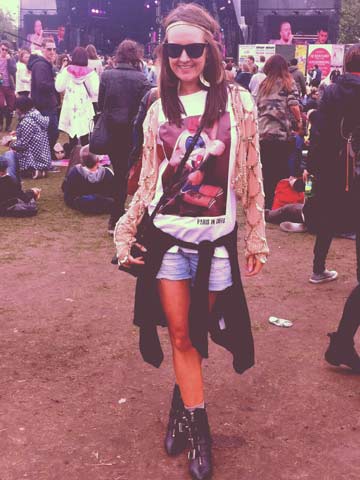 Now Style Assistant Emma Fletcher at Lovebox 2012
This typical dreary English weather is getting me down - but all the rain didn't dampen my spirits for
Lovebox
.
After the excitement of finding out I was heading to the music festival courtesy of the lovely people at Puma, my dilemma was: 'What am I going to wear?'
For my perfume, I didn't have trouble deciding - I was going to smell utterly fab wearing the new Puma Yellow fragrance.
Puma Fragrances has launched two new limited-edition scents for the summer: Puma Yellow for her and Puma Green for him. And who better to represent the fragrances than the most joyful and energetic athlete in the world, Usain Bolt? Both fragrances are on sale now, but be quick - they're only available for the next three months.
Ambassador Usain says: 'Puma Green is great. It's cool, like me! As far as Puma Yellow is concerned, I would be attracted to any woman who'd wear it! It's a wonderful fragrance. On top of that, the colours yellow and green play a very important role in my life - they're the colours of the Jamaican flag. Indeed, they are very close to my heart.'
After coming to the conclusion that it was definitely going to rain (at some point) during the weekend, I started pulling together some bits to wear. I stumbled across a cooler than cool site called parisincuffs.com. I totally love the range of T-shirt designs and sweat tops (perfect for the ever-changing and depressing weather). I picked the Bunny Boiler T-shirt, £20, because I loved the print.
I teamed it with my old faithful sequin shrug and boots. They're the perfect pieces to keep in the wardrobe and bring out every now and then. You can get a similar jacket from AWear at Littlewoods, £81, and some lookalike boots from Urban Outfitters, £70.

Denim shorts are hanging in every girl's wardrobe. I have around five pairs and I am a firm believer that you can never have enough denim pants! The scruffier the better is my motto. The ones I wore were light-washed denim pants from River Island, £30.
For my nails, my good friend and super-talented celebrity manicurist Ama Quashie (@NailsByAma) gave me the 'spot effect'. I had lilac nails with assorted neon spots all over the base of the nails.
As for accessories, I had my old-school sunnies. Mine were from Primark, £3, but I'd love a pair of Ray-Ban Wayfarers, £102, any day! I added lashings of gold jewellery – my skull bracelet was from Sparkling Jewellery – and voilà, my edgy English summer festival look was complete.