Friday 25 March 2011
Friday beauty desk drop!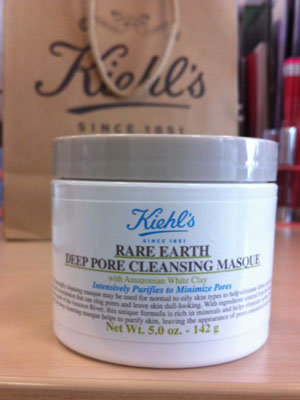 Friday beauty desk drop
I've been looking at my face all week thinking that I need to try and do something to liven up my dull winter skin!
You see the sun makes me want to immediately ditch my heavy winter foundation in exchange for a summery tinted moisturiser, but that ain't happening till I transform my skin from gloomy to glowing!
And luckily for me Kiehls have just come to my skin's rescue with their Friday beauty desk drop, a pot of their Rare Earth Deep Pore Cleansing Masque, £21.50.
I can't tell you how excited I am about getting in tonight, putting my PJs on and slathering my face in it...you see on the tub it says that this masque will eliminate debris and un-clog my pores leaving my skin purified and clear. Bring it on!
The Friday beauty excitement didn't stop there, I also had a bag of Elemis' new freshskin range arrive on my desk today, which I'm really excited about!
It's a whole new skincare range from Elemis that is aimed at younger skin and will take you from your teens to your twenties. Prices start at £8, it's available from 14th April when it will be sold exclusively on www.elemis.com/freshskin.
Don't tell anyone but I've swiped the Skin Glow Exfoliating Face Wash, £12...it's not for me it's for my daughter!