Friday 18 March 2011
Friday beauty desk drop!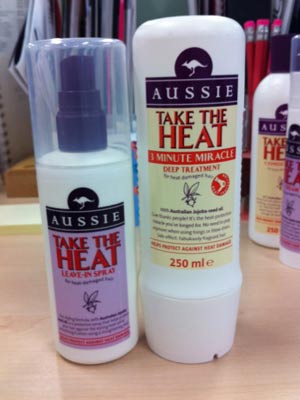 The Friday beauty desk drop!
Until about lunch time today I was in a slight panic!
You see I'd planned to blow-dry my curly hair straight this weekend for my Saturday night out (I don't get out much!) but didn't have any products to do it with.
Then luckily Aussie sent in their Take The Heat range and quite literally it took the heat out of my weekend blow-drying plans because now I can wash and blow dry my hair knowing that it will be protected from the heat and end up looking vaguely as smooth as my hairdresser gets it!
So, in case anyone is interested in my DIY straightening technique I'll be washing my hair in Aussie Take The Heat Shampoo and Conditioner, £3.49 each before spritzing on the Take The Heat Leave-in Spray, £4.49.
Then I'll be sectioning off my hair and blow-drying it using a round bristle brush before finishing it off by running my GHD's all over my hair - this sounds simple but to get my hair Gwyneth Paltrow straight it will take me about an hour!
Wish me luck!!!!