Thursday 10 March 2011
Kate Moss hasnít had a boob job, leave her alone!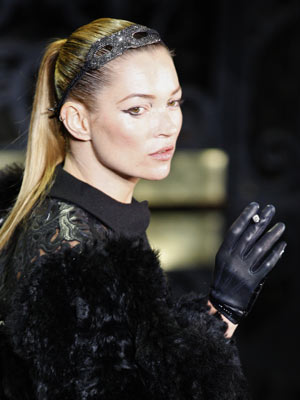 Kate Moss smoking a fag!
Honestly I can't believe the furore over
Kate Moss
walking down the
Louis Vuitton
runway in a pair of pants smoking a fag, even though it was on no smoking day.
Have we really got to the point in society where this is the most shocking thing going on in the news?
I don't think so!
And what's more I actually think we need to lay off Kate Moss, she's a 37 year old women and yes she may have partied a lot over the years but she has not had a boob job, yo-yo dieted, gone for bum implants, had face fillers or try to hide her wrinkles.
I am the same age as Kate and I am pleased that she has not tried to conform to an image of what the media think is the perfect way to look and even actually flaunts her faults, because it means when I look at my (slightly) saggy boobs and cellulite I don't feel as bad about myself.
So, I for one am glad the fashion crowd at the show cheered her with whoops when she walked down the catwalk and think that the media giving her a hard time need to get a grip and start celebrating the fact that Kate Moss hasn't turned herself into a Barbie doll.