Thursday 11 October 2012
Today's hair obsession: Kate Middleton's glossy 'do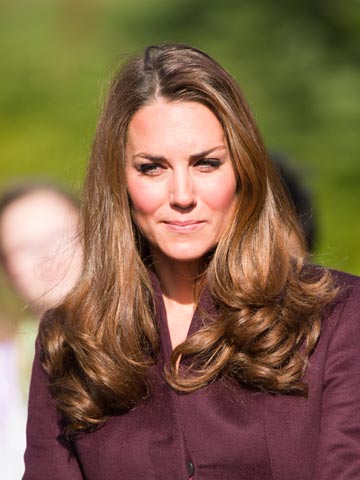 Kate Middleton looks beautifully groomed
Remember how frizzy Kate Middleton's hair looked on her and Prince William's recent Royal Tour of South East Asia?
Well, we're glad to report that The Duchess of Cambridge's signature glossy blow-dry is back!
Our Beauty Director, who has studied pictures of Kate's hair for hours on end, reckons that Richard Ward has returned to favour as her stylist.
'Yesterday Kate was on a solo tour of the North East and as soon I saw the pictures I felt she'd been to see to her trusted hairdresser Richard Ward,' says Charmian Harris.
'You can tell his signature Chelsea blow-dry from a mile away as he always manages to get hair looking glossier and shinier than anyone else.
OK, so the humidity in Malaysia and Borneo would play havoc with anyone's hair, but a good blow-dry should be able to withstand that.
Seems hairdresser Amanda Cook Tucker, who Kate took on the Royal Tour, wasn't as good at taming those Royal waves as Richard has been over the years.
Let's hope we're right as we much prefer the super-groomed Kate to the frizzy one!
NEW PICTURES Kate Middleton and Prince William meet England football squad
SEE PICTURES Kate Middleton and Prince Harry enjoy London 2012 Closing Ceremony without Prince William
SEE PICTURES Kate Middleton's Style File