Thursday 07 June 2012
Kate Middleton teams nude lips with St Tropez tan for Diamond Jubilee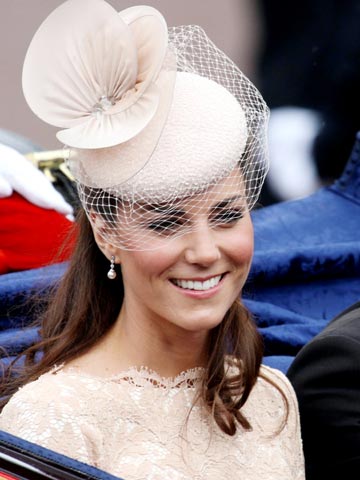 Kate Middleton has a sunny glow at the Diamond Jubilee
The
Duchess of Cambridge
wowed everyone over the
Diamond Jubilee
weekend with her patriotic red, off-white and blue dresses and, as usual, her immaculate make-up looked flawless.
Kate Middleton isn't one to stray too far from her brown smoky eye and nude lip gloss look, but if the Twitter rumours are to be believed, Kate is a secret St Tropez fake tan user.
On Tuesday when Kate rocked an Alexander McQueen nude lace dress, fake tan expert @jamesreadtan Tweeted: 'Loving Kate's dress, her St Tropez tan looks good as well.'
We have to say, Wills' wife couldn't have got that golden glow on the Isle of Anglesey in this weather and, if we were going to wear a nude lace dress like Kate, we'd be slathering on the St Tropez fake tan, too!
SEE PICTURES Kate Middleton Style File>>
MORE PICTURES Amazing facts about Kate Middleton - Prince William's wedding belle>>
SEE PICTURES Prince William revealed! Amazing facts about Kate Middleton's man>>
SEE PICTURES Kate Middleton and Prince William: Their love story in photos>>
ROYAL WEDDING GALLERY See the guests arrive for Prince William and Kate Middleton's special day>>
SEE PICTURES Prince Harry beats Usain Bolt in a sprint on Diamond Jubilee visit to Jamaica>>
Charmian Harris