Monday 28 May 2012
Scoop: Millie Mackintosh takes Ibiza style to the BAFTA red carpet with boyfriend Professor Green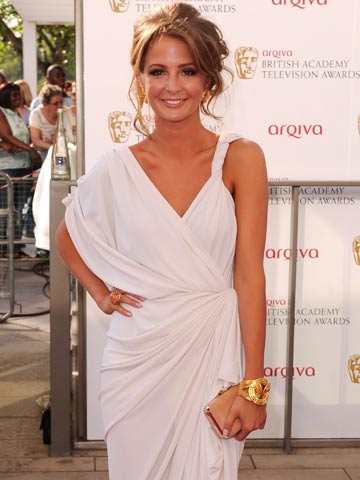 Millie Mackintosh looks stunning at the TV BAFTAs
Millie Mackintosh
and
Professor Green
have just got back from partying in Ibiza and took the holiday vibe onto the red carpet last night at the
BAFTA TV Awards
in London.
Being St Tropez's new ambassador, Made In Chelsea star Millie showed off her stunning glow with a white Lanvin dress.
The St Tropez team was on hand to tan all the celebrity guests at the pampering suite at the Corinthia Hotel and skin finisher Michaella Bolder made sure Millie's skin glowed.
'To get Millie's flawless colour I started with a light St Tropez Spray Tan, £20, to enhance her naturally golden skin,' she explains.
'I followed with Skin Illuminator in Gold, £12.26, mixed into body lotion to make the skin really luminous and then a slick of Instant Glow Shimmer Stick, £15.32, onto her shoulders and shins so she would gleam on the red carpet.'
Stunning! No wonder Professor Green is smitten. Move over, Posh and Becks - there's a new hot couple ready to take your crown!
SEE PICTURES Worst Dressed Ever at TV BAFTAs>>
SEE PICTURES Best Dressed Ever at TV BAFTAs>>
SEE VIDEO Millie Mackintosh and Caggie Dunlop's make-up masterclass>>
SEE PICTURES Made In Chelsea girls show TOWIE cast how to dress at London party>>
SEE PICTURES Millie Mackintosh attends InStyle's 10th anniversary party in London>>
EXCLUSIVE VIDEO Behind the scenes at Caggie Dunlop and Millie Mackintosh's photo shoot>>
Charmian Harris