Thursday 03 May 2012
REVEALED: Do you want to know the fake tan in last night's Apprentice?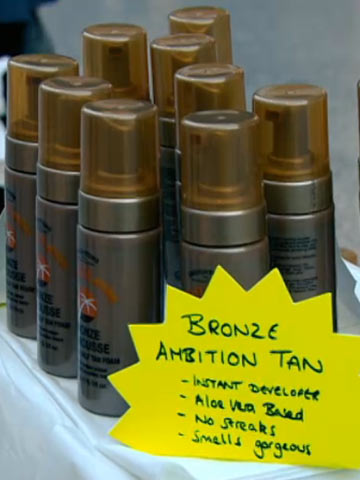 The Apprentice sells out of fake tan
Go on, admit it, you were watching
The Apprentice
last night - and you were desperate to find out what brand of
fake tan
everyone was buying.
Team Sterling set up their stall in an Essex shopping centre and really went for the hard sell, with team members - including Gabrielle Omar - letting customers smell the product and demonstrating how to use it.
Well, we've done the hard work for you and tracked down the exact fake tan they were selling on The Apprentice.
It's called Bronze Ambition Bronze Me Mousse Instant + Self Tan Foam, £3.99.
The good news doesn't stop there! Check out the whole range of tanning products available on their website www.bronze-ambition.com.
NEW PICTURES The Apprentice 2012: Meet the candidates - the have-a-go hero, the body-builder and the Blonde Assassin>>
SEE PICTURES The Apprentice 2011 - contestants revealed >>
SEE PICTURES The Apprentice 2010 - contestants revealed>>
SEE PICTURES The Apprentice: Where are they now?>>
Charmian Harris