Thursday 05 April 2012
Hey, Samantha Brick! Gym bunnies Miranda Kerr, Miley Cyrus and Kim Kardashian really are beautiful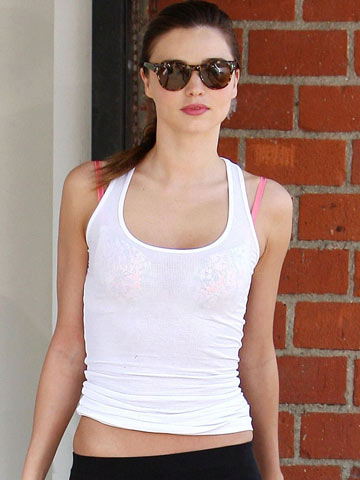 Miranda Kerr keeps up the glam factor even when going to the gym
Unlike journalist Samantha Brick - who caused a furore this week by claiming women hated her for being beautiful - Miranda Kerr, Miley Cyrus and Kim Kardashian don't need to tell the world how sexy they are...because, erm, they are!
Even when they're working up a sweat, they look great.
Why not take some beauty tips from them when you head to the gym this Easter Weekend to work off some of those chocolate eggs you'll be scoffing.
For a start, Miranda Kerr doesn't even step foot inside the gym without her lipstick on.
Now obviously don't go for a gloss, instead try one of Revlon's new Lip Butters, £7.99 as they are as soft as a balm but have the colour of a lippy.
Then for fab abs like Miley Cyrus, you need to become a Pilates devotee and the must-have hairstyle for that class is...you guessed it, a high topknot.
Finally, queen of being glamorous even in her down-time, Kim Kardashian has been spotted leaving the gym in LA with this summer's hottest nail shade, coral.
Check out Nails inc Neon And Nude Collection, £22, for a matchy-matchy shade.
Charmian Harris